WAIKATO: SOUTH-WAIKATO
Marokopa Holiday Park

1 Rauparaha Street, Marokopa, Te Kuiti, Waikato
waitomo.govt.nz/community-service/marokopa-holiday-park/
Phone: 07 878-0800, 0800 932 4357
rvexplorer id: 17530
Lat-Long: -38.30375, 174.72106
Beach, Town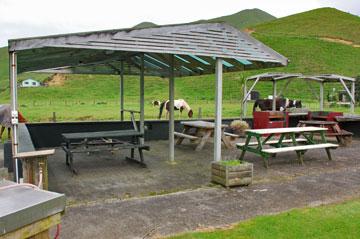 Barbeque area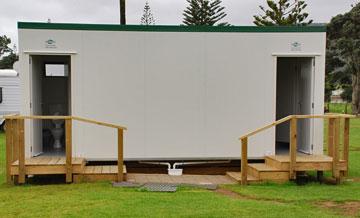 Toilet and shower facilities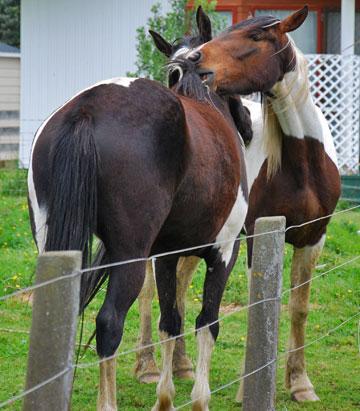 Local horses grooming each other
The Marokopa Holiday Park is located in a quiet seaside village is is popular location for surfing, swimming, kayaking. fishing and whitebaiting.
This is a typical, laid back rural Kiwi campsite - nothing luxurious, but everything is clean and tidy.
The small general store just provides some of the basics, so, if there's anything special you need, it would pay to stock up before you arrive.
The Marokopa river flows down into the Tasman sea around a rocky peninsula, making this a great location for whitebaiting in season, and the campsite it typically occupied by enthusiastic whitebaiters from 15th August to the end of November each year.
Fishing for kahawai is also very popular, and it's also possible to go fossil hunting at Kiritehere.
The black sand beach is good for firshing, surfing and water activities, but not so much for sunbathing. Marokopa is a great place to stop over if you are exploring the scenic route from Waitomo through to New Plymouth, or if you want to take some time out to enjoy a west coast beach lifestyle in a quiet country village.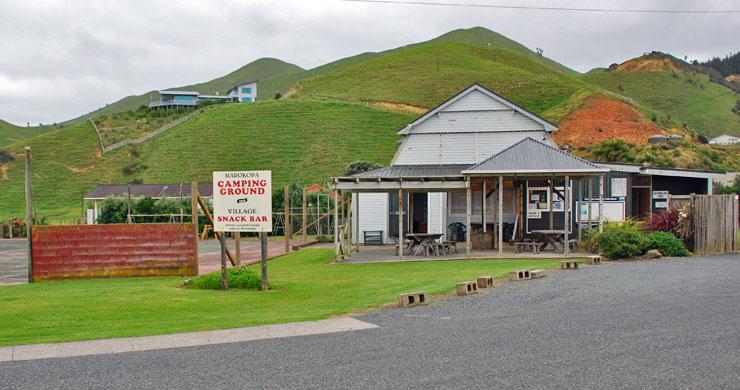 POST A COMMENT: