WAIKATO: MATAMATA-PIAKO
Te Aroha Holiday Park

217 Stanley Road, Te Aroha, Waikato
Phone: 07 884-9567
rvexplorer id: 17651
Lat-Long: -37.56646, 175.71958
Adventure jumping platform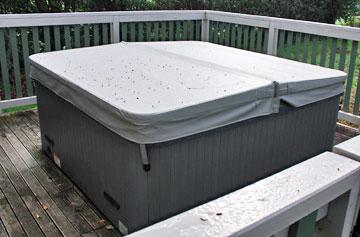 Covered spa pool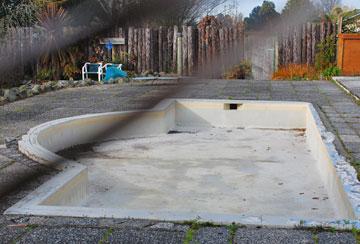 Empty thermal pool
Our visit to the Te Aroha Holiday Park was a disappointment for us. We went there in mid-winter, planning to take advantage of the thermal pool and have a good soak after spending the previous week on the road.
Unfortunately, the thermal pool was empty, and was clearly not being used very much over winter. There was a small spa pool on the other side of the campsite, but it was covered over, and didn't look that inviting on a chilly winters evening.
Unlike the hot pool in the Miranda Holiday Park, where they provide a popular winter thermal experience, the Te Aroha Holiday Park was effectively closed except for a few long term campers.
On having a look around the next morning, we realized that the campsite was really focussed on providing an adventure playground for children over the summer holidays. There are some excellent climbing and jumping activities for children, By contrast, the thermal pool is not really the main focus.
This was a surprise because Te Aroha promotes its thermal mineral pools as a main attraction for the town. We may well have been better off to have gone to the main mineral pool complex, and to then have taken advantage of one of the free overnight parking locations in the town.
So, if you're travelling with your kids over summer, and the thermal pool is not your main focus, then this is a great location - one of the best adventure playgrounds that we have seen. But, there are better places if you want to soak in a hot mineral pool.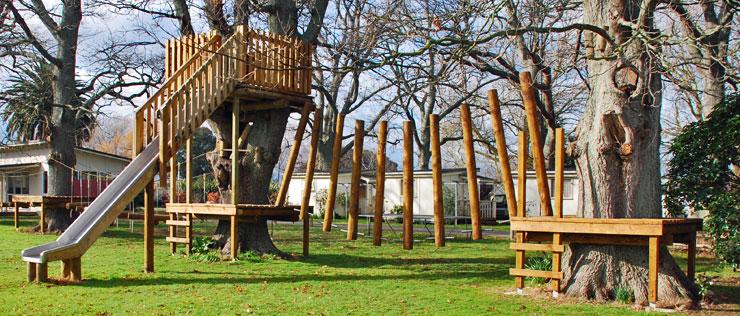 POST A COMMENT: