WAIKATO: COROMANDEL EAST
Hot Water Beach

rvexplorer id: 17405
Lat-Long: -36.88862, 175.82389
Beach




Hot Water Beach on Coromandel's East Coast is one of the iconic destinations that has been well promoted all around the world. And rightly so. The golden sand beach slopes quite steeply into crystal clear water and, when the sun is out, the froth of the waves sparkles brilliant white against the almost impossibly deep blue water.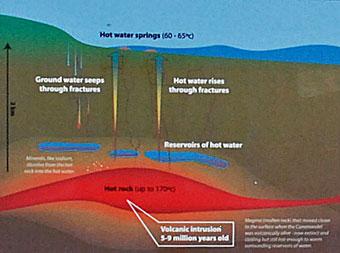 The Coromandel Peninsula is blessed with a number of such beaches. What makes this beach special is, of course, the geothermal activity that generates natural hot pools which become accessible within two hours either side of low tide.
These flow upwards from molten rock that was formed about 3 km under the ground around 5-9 million years ago. The spring water can reach 60 degrees Centigrade and contains calcium, magnesium, potassium, fluorine, bromine and silica.
The hot springs bubble up through the sand and throngs of visitors walk down the beach to dig their personal pools that then fill up with a mixture of hot spring water and the cold ocean sea water. The local cafe does a thriving business renting out spades for visitors to use.
There are clean toilets and outdoor showers for rinsing off the sand.
We were only at the beach for a short visit and low tide was still another 4 or 5 hours away, so we'll plan a trip back on another occassion.
Along with the rented spades, you can buy icecreams and lunch at the cafe, with another more up-market cafe just a short walk up the hill. There is also an art gallery, and the Hot Water Beach Holiday Park.
POST A COMMENT: