WAIKATO: COROMANDEL EAST
Tairua Holiday Park

4 Manaia Road, Tairua, Coromandel, Waikato
Phone: 07 864-8071
rvexplorer id: 17398
Lat-Long: -37.00150, 175.84982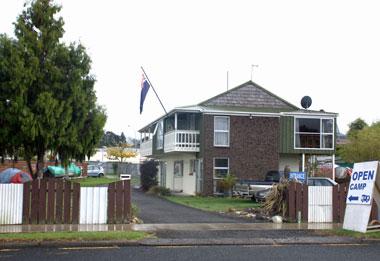 We arrived at Tairua Holiday Park at just after 7 pm, got ourselves parked in a powered site, and then went for a walk around the town to see what we could find for dinner.
It was Easter Saturday and the town was overflowing with mostly young people wandering around. The local bar/restaurant was providing live entertainment, and all the restaurants were fully booked. We eventually found an empty table at Pepe's Cafe & Restaurant and ordered our meals.
Pepe's had a nice atmosphere and the waitress made us feel welcome, even on a busy evening. Unfortunately, the fish dish served really wasn't particularly nice, and the meals helped us to appreciate one of the joys of being self-contained - being able to prepare our own food. It may have just been a busy night.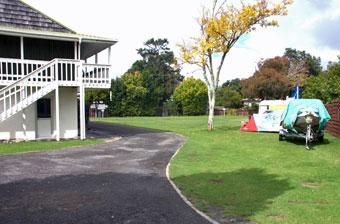 The holiday park was one of the smallest we've been to, but was well set up with all the usual facilities. It's owned by the Thames-Coromandel district council, and is leased to Brad, who runs the park.
Being located right in the town makes it a good stopover for doing some shopping, or enjoying the local beaches which are just a short walk away.
Vodafone's internet coverage should have been really good, but their network was overloaded as a result of all the holiday visitors flocking to Coromandel for the last holiday weekend of the summer - something to bear in mind if you are planning a visit during the summer high season, or on any of the public holidays.
The next morning we went for a walk around town. Nothing open on Easter Sunday, but there were still plenty of people around. We enjoyed our brief stay. Tairua is an unpretentious, family-oriented small town surrounded by water offering safe swimming, fishing, canoing as well as surfing at it's ocean beach.
We checked out of the holiday park and drove to the Tui Terrace parking area, which offers free overnight parking for certified self-contained campers.
POST A COMMENT: