WAIKATO: COROMANDEL EAST
Kuaotunu Rest Area

Kuaotunu Wharekaho Rd, Kuaotunu West, Whitianga, Waikato
Phone: 07 868 0200
rvexplorer id: 19297
Beach, Town







Please take careful note of council's designated parking areas.
You now risk a $200 instant fine if you don't park in the area provided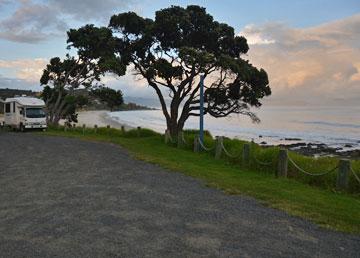 Beach front parking in the evening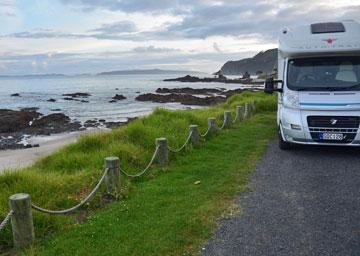 Beachfront parking the next morning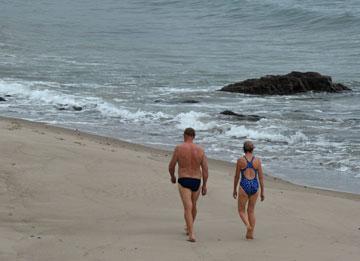 Couple going for a morning walk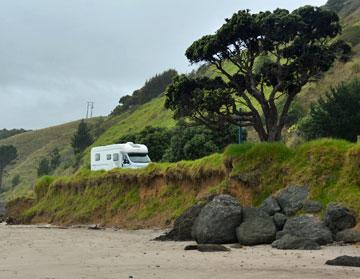 The Kuaotunu Rest Area is a small reserve just off the main road where freedom camping is allowed for certified self-contained motor caravanners.
Parking is at the Kuaotunu end of the reserve, and directly overlooking the beach. There is not a lot of room, and it is likely to be full over the summer holiday season.
Update: 29-Jan-2016
We stayed overnight, listing to the waves. Even though close to the road, there was not a lot of traffic noise. This is a choice location!
On our first visit, there were two council freedom camping signs, but these are no longer there.
The next morning we had a chat to the other motorhomers who stayed overnight, and they told us that the council had just removed the signs because this was a NZ Transport Authority rest area, and was not controlled by the council. Consequently, the council had no authority over who should be able to park overnight.
This was an interesting development for us, as it illustrates the confusion that still exists over the whole issue of freedom camping around the country. If it's confusing for us and the councils, it must be even worse for overseas visitors in rental vans.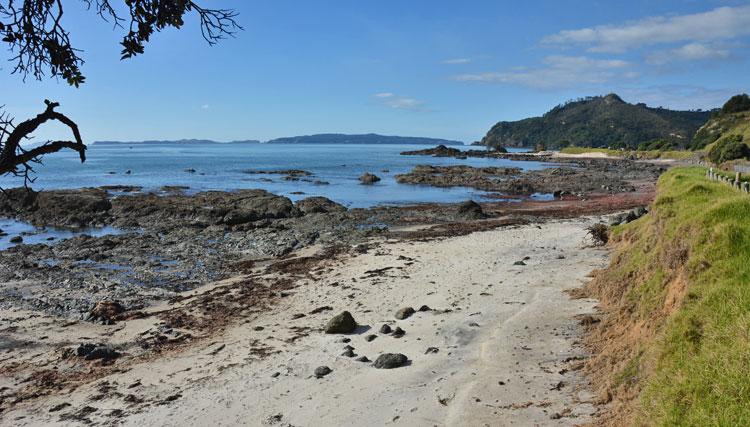 POST A COMMENT: