NORTHLAND: TUTUKAKA
Tutukaka Holiday Park

Matapouri Road, Tutukaka, Whangarei
www.tutukaka-holidaypark.co.nz
Phone: 09 434-3938
rvexplorer id: 11771
Lat-Long: -35.60882, 174.52309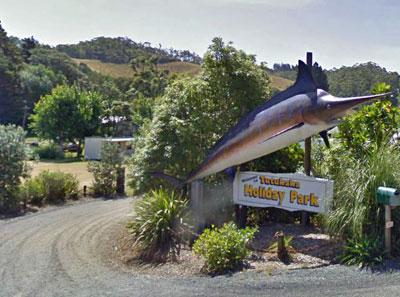 Tutukaka Holiday Park is in a quiet location just a short walk from the Tutukaka township - a location that is well known for its diving and deep-water fishing. The harbour has a marina and local hotel accommodation for all the visitors. There are gift shops and the local dairy offers fresh fruit and vegetables.
The holiday park is well equipped with a large communal kitchen / lounge, and a separate BBQ area outside.
This is a great place to meeting other campers, especially if you're keen on fishing and diving. There is a fireplace to keep everyone warm on the colder evenings. The furnishing are now showing their age, but are otherwise very comfortable.
The park caters for normal camping as well as motorhomes and caravans.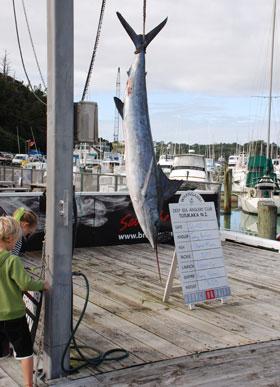 It's only a short walk downhill to Tutukaka village which caters well for visitors. The local pub is kept busy, and the gift shop features a range of quality art and craft works.
A farmers market is run every Saturday morning, with some excellent produce on display.
It's worth a walk to the marina as you're likely to see some very impressive catches being weighed in. The striped marlin in the picture was just a small one, but still weighed in at 96.2 kg!
Tutukaka Township on a sunny Autumn morning.
POST A COMMENT:
04:14 PM 12-May-19
by Denise
from Whiritoa
Public
We stayed here because we needed a dump station and wanted to walk the the Headland Track to the lighthouse. Surprised there is no public dump station at this marina.