NORTHLAND: KAURI COAST
Kai Iwi Lakes - Pine Beach Campsite

296 Domain Rd, Omamari, Kauri Coast, Northland
Phone: 09 439-0986
rvexplorer id: 17736
Lat-Long: -35.80943, 173.66258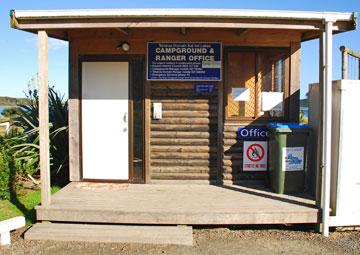 The campsite office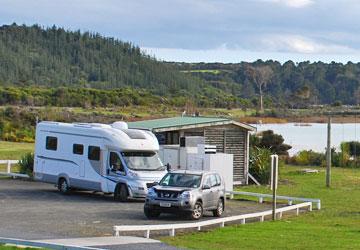 Parking in front of the office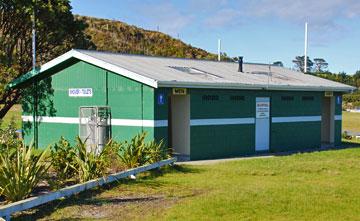 Shower and toilet facilities
The Kai Iwi Lakes are one of Northland's iconic attractions. The campsite at Pine Beach provides on grass parking set back a little from Lake Taharoa, and is a great location for water sports, fishing, and going for long walks - either around the lake, or along the 2.5 km track to Ripiro Beach.
We arrived on a cold, overcast day at the end of winter. There was only one young family visiting for the afternoon, but no other campers. However, it was getting late, so we decided to stay the night anyway.
Getting ourselves set up for dinner, we were treated to a spectacular sunset. It was too cold to do anything outside, so we hunkered down for an early night.
The next morning was stunning! On the first day of Spring, there wasn't a cloud in the sky and the lake sparkled an intense blue.
We had the entire lake to ourselves until the camp manager arrived to check us in and accept payment for staying overnigt.
There are no powered sites, but hot showers are available, operated by a $2 coin. Both showers and toilets were clean and well maintained.
Rainbow trout were introduced into the lakes in 1968, and trout fishing has become a very popular activity. However, you will need a licence, which you can obtain ahead of time from sports shops in Dargaville.
The campsite has a strict 10:30 pm curfew.
The lakes are very popular over summer, so it is essential to book ahead for the summer holidays and any holiday weekends.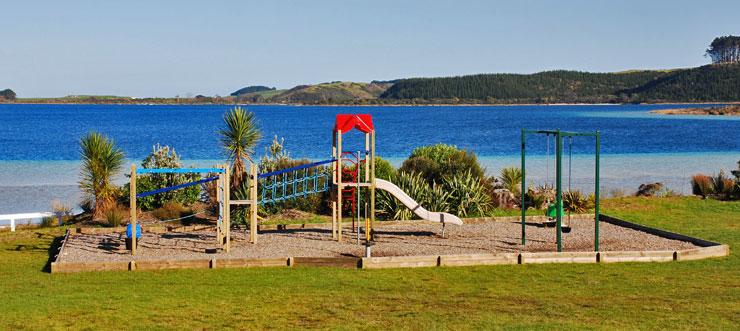 Lake Taharoa and playground on a clear morning
POST A COMMENT: