NORTHLAND: HOKIANGA
Opononi Holiday Park

SH 12, Opononi, Hokianga, Northland
www.opononibeachholidaypark.co.nz/
Phone: 09 405 8791
rvexplorer id: 00531
Lat-Long: -35.50828, 173.39023
Beach, Town








Shuping and I booked into the Opononi Holiday Park after we decided at the last minute to go on the highly recommended Footprints night tour through the Waipoua Forest. The tour started at 6 pm, leaving from the Copthorne Lodge in Omapere, and we didn't arrive in Opononi until 5:30. No problem for Jenny Barlow, the manager, who promptly rang the Copthorne and organised for us to be collected from the holiday park.
With that taken care of, Jenny showed us where to park and we finished getting set up just in time to go down to the entrance to be picked up by Bill, our guide for the night.
The tour was magic! A totally new experience for us, walking through the forest at night with two other couples. But that is a whole new story to be told separately...
We woke up to a beautiful sunny Autumn morning. The view over the harbour, with the sand dunes in the background, was just stunning. I went for a wander, taking pictures before it came time to get ourselves organised to move on to our next destination.
The facilities were very good, and we appreciated the unmetered showers. This would be a great base for doing some fishing, or simply chilling out for a few days.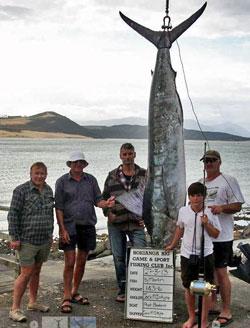 We were just about to check out when I received a phone call from a member of the local fishing club enquiring about setting up a website for their club. I had known Janice from a project we had worked on several years earlier, and it was pure coincidence that she happened to contact me while we were still in Opononi.
The resulting meeting at her place ended with us leaving with a large piece of smoked marlin that her husband had caught in the harbour a few days earlier, and had only just finished smoking.
What a treat! If you've never tried a fresh salad, with smoked marlin, drizzled with lemon juice and New Zealand olive oil, then it is worth moving to the Hokanga and joining the fishing club.
For you keen fishermen out there, the Hokianga is famous for it's big game fishing. Some of the best marlin, and biggest scnapper are caught there. You can see more information at www.hokiangafishingclub.co.nz.
Next stop, Kaikohe, en route to Aroha Island, just north of Kerikeri.
POST A COMMENT: