NORTHLAND: FAR NORTH
Cape Reinga Lighthouse

end of Cape Reinga Road, Far North, Northland
rvexplorer id: 17744
Lat-Long: -34.43008, 172.68218
Rural



Cape Reinga public toilets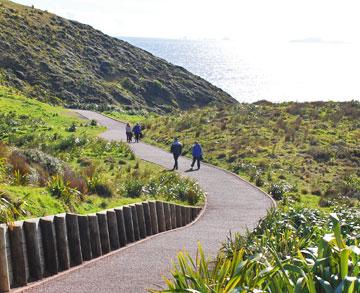 Walkway down to the lighthouse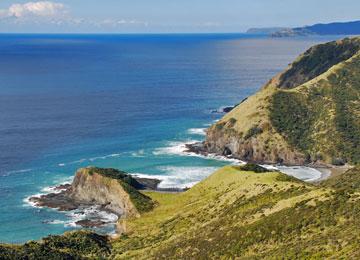 Cape Reinga Bay
The pohutukawa tree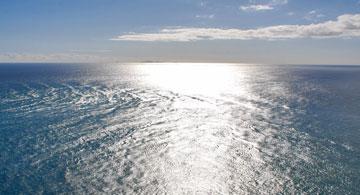 Turbulent water when the Pacific ocean and Tasman sea meet
Cape Reinga is stunning!
Of course, it is one of New Zealand's iconic attractions, and coach loads of visitors arrive every day to walk down to the lighthouse.
They peer at the small pohutukawa tree that is said to provide the steps to the sea for departing souls to leave New Zealand and return to their ancestral home in Hawaiki.
They watch the the turbulent intersection of the Pacific ocean and the Tasman sea at the northenmost tip of our country.
In spite of that, it is not a tacky tourist destination.
There are clean toilets that have been designed for dramatic visual impact, but there is nothing commercial. No cafe. No sourvenier shops.. No one selling audio commentary in multiple languages. Not even an icecream cart. And somehow, this adds to the overall impact of the location.
The signage, which provides commentary as you walk down to the lighthouse, is interesting and very well done. You can learn interesting facts, like the Pohutukawa tree, known locally as a Kahike, has never been known to flower.
On a clear day, Cape Reinga is stunningly beautiful.
The walk down to the lighthouse is both long and quite steep. The path down is wide and well maintained, and includes seating should you need to catch your breath. It is most likely close to being 1 km, and not everyone makes the effort. But it is worth doing.
You can't park overnight. Even though there is plenty of room, it wouldn't seem right to do so anyway. Plus, the DOC campsite at Taputaputa Bay is only a short distance away.
It's worth driving up to Cape Reinga just to stay in Taputaputa Bay, and if you do that, you owe it to yourself to spend some time at the lighthouse.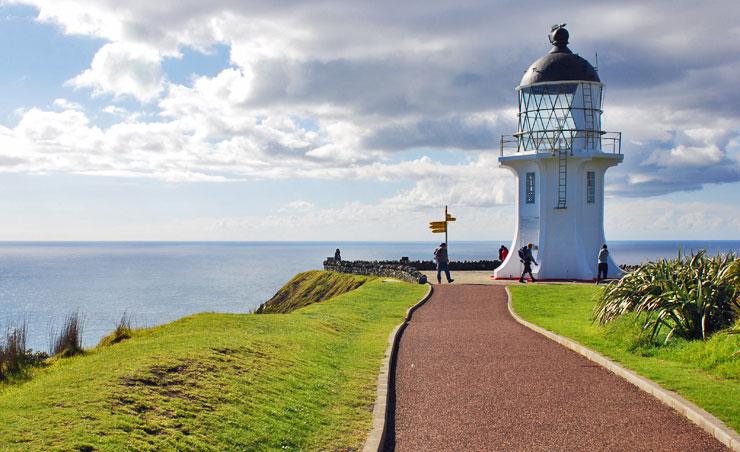 Approaching the Cape Reinga lighthouse
POST A COMMENT: