NORTHLAND: BAY OF ISLANDS
Beachside Holiday Park

Main Road, Paihia, Bay of Islands, Northland
Phone: 09 402 7678
rvexplorer id: 11074
Lat-Long: -35.30081, 174.10199
Beach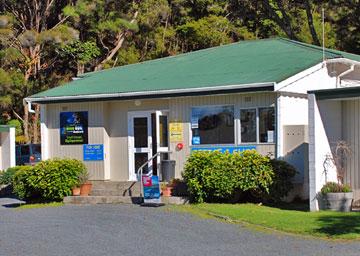 Beachside Holiday Park reception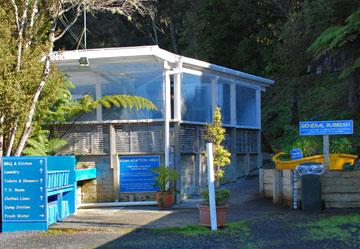 Beachside Holiday Park kitchen and ablutions facility
The Beachside Holiday Park was an interesting study in contrasts for us. We arrived late on a winters afternoon, just in time to get ourselves parked and organised for dinner before it started to get dark. Surrounded by native forest, the air felt heavy and damp, and the temperature was dropping fast as a cold southerly was bathing the whole country in a winter chill.
We got ourselves nice and warm inside the motorhome, but were faced with a shock when it came to have a shower. It wasn't just cold outside, but the shower block may as well have been out in the open as well. I made the mistake of getting undressed before starting the shower, and it seemed to take forever before the hot water finally arrived. The showers weren't metered, and were otherwise fine, but I didn't really warm up until I got back to our nice warm motorhome.
It's a peaceful, quiet location, and we woke to the sound of tuis calling from the forest edge. We got up just in time to catch the morning sunrise shrouded in fog over the bay. It created a quite ethereal atmosphere. However, for me, it was a quick breakfast before my business partner picked my up to attend a couple of meetings in Opua.
By the time we returned, the sky had cleared, and the sun was waming the bay. The holiday park had been transformed from cold and foggy to warm and stunningly beautiful. I can just imagine that this would be a great location in spring or autumn. You can forget the summer holiday season unless you book well in advance.
For us, the only negative was the facilities area, which were basic and quite functional, but really didn't cater for the cold conditions over winter.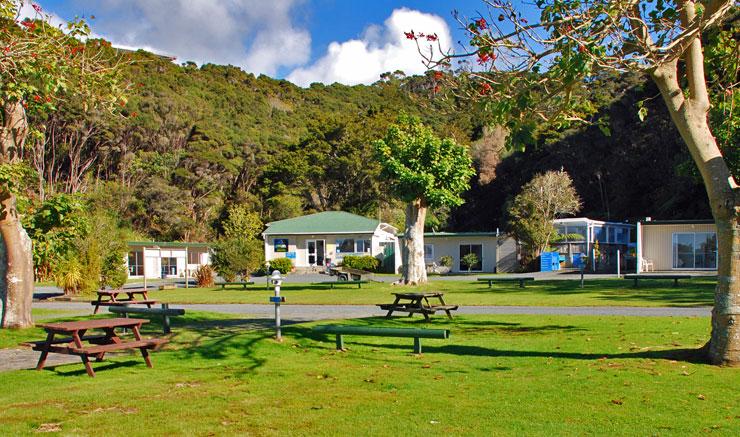 POST A COMMENT: