TASMAN-NELSON: TASMAN
Wharariki Beach

471 Wharariki Rd, Puponga, Tasman, Tasman-Nelson
rvexplorer id: 18546
Lat-Long: -40.50915, 172.68485
Beach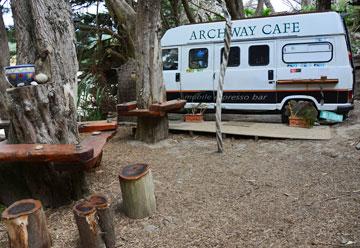 The Archway Cafe - unfortunately closed when we were there.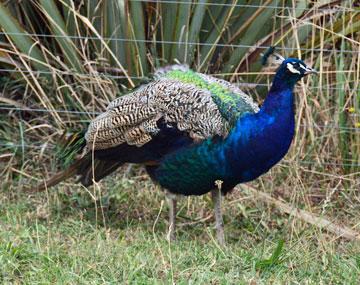 Resident Peacock patrolling the boundary fence
Wharariki Beach is in the far north of Golden Bay. There is a large parking area not far from the holiday park, which also provides a 'roadside cafe' for visitors. The long walk to the beach from the car park is across farm land, with stunning views, as you approach the sand dunes leading on to a rugged beach. Plan plenty of time, but it is worth the walk.
We visited Wharariki Beach in mid March while checking out the local holiday park. It was a sunny afternoon, but a storm was brewiing further north, and the wind became increasingly strong and gusty. Walking across the soft sand dunes in these conditions became somewhat challenging, with the onshore wind making a good attempt as sand-blasting all us hardy souls who would dare to explore the beach.
The seals were more sensible, and moved to a more sheltered location to avoid the turbulent sea conditions. Even so, we enjoyed the trek, and made ourselves a nice hot cuppa when we got back to the motorhome.
Even though it was early autumn, and the conditions were a bit challenging, there were still plenty of visitors in the car park. There are also other longer walks, and we're told that there can be some amazing sunsets. However, we might save that for a time of the year when it is a little warmer.
While there is a long-drop public toilet at the car park, overnight parking is not allowed.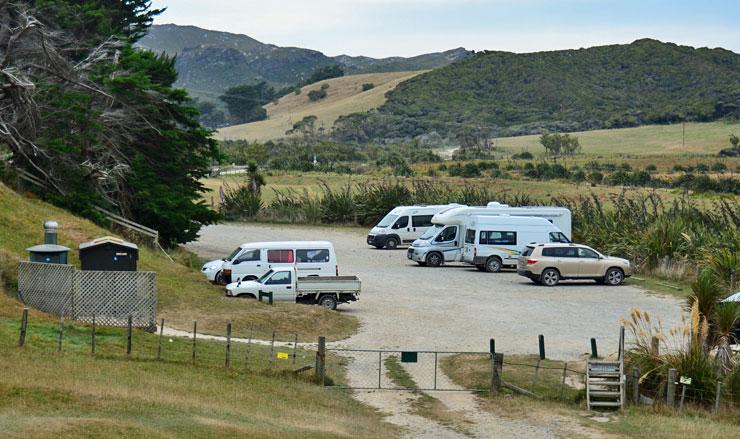 POST A COMMENT: