TARANAKI: NEW PLYMOUTH
Lee Breakwater Parking Area

Ocean View Parade, New Plymouth, Taranaki
rvexplorer id: 17542
Lat-Long: -39.05828, 174.05116
Beach, Town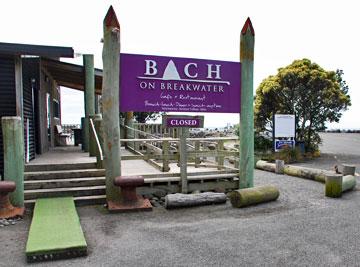 Bach on Breakwater restaurant entrance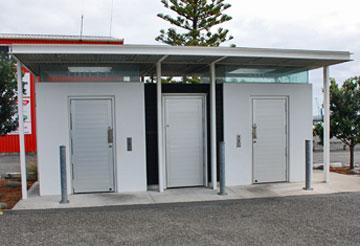 Clean public toilets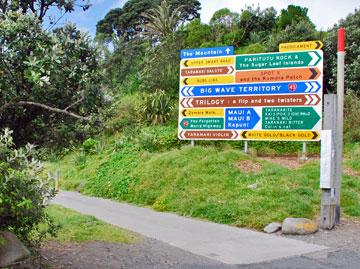 The beginning of the Coastal Walkway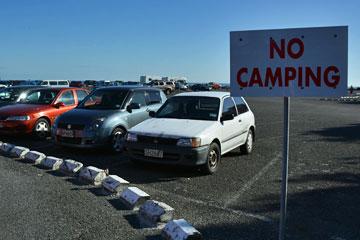 The Lee Breakwater parking area is a very large public carpark right on the waters edge, and at the beginning of the Coastal Walkway. There is a very good restaurant, and clean toilets.
And, in spite of the prominent No Camping sign at the entrance, self-contained vans are able to park overnight during the off-season between April and the end of October, when it can become very busy with boaties needing the available parking.
The local council is one of the most motorhome friendly, and allows overnight parking in most of their public reserves and parking areas. Use common sense if you want to stay overnight here, especially in the weekends or on public holidays.
There is another nice parking area close by in the Kawaroa Park, which also overlooks the harbour and is more sheltered.
There is plenty of room, but it is quite exposed, and very windy while we were there. We stayed for one night and then moved on to another, more sheltered location in the Hobson Road carpark.
The restaurant served up a delicious meal, which we enjoyed with some good friends living in New Plymouth.
The Coastal Walkway stretches for almost 10 km before finishing at Hickford Park, This is an excellent cycling activity for motor caravanners travelling wih bicyles. There are some nice parks and coastal scenery to explore along the way.
We've overnighted here on two occassions, the second was on a glorious sunny day when we were meeting up with some good friends. You'll see the difference in the pictures, and especially the stunning view of Mt Taranaki.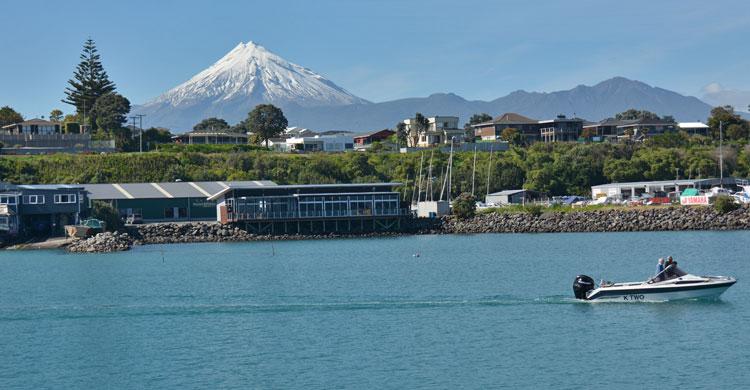 POST A COMMENT:
09:05 PM 20-Jun-16
by Jude
from Hawke's Bay
Public
Definitely no camping here now. It is a pay and display parking area and very clear no camping message on new signage