TARANAKI: NEW PLYMOUTH
Urenui Beach Camp

148 Urenui Beach Road, Urenui, Taranaki
Phone: 06 752-3838
rvexplorer id: 17536
Beach, Town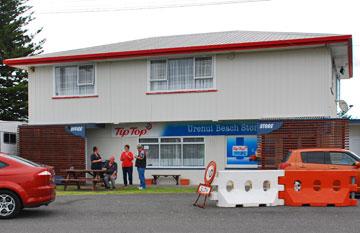 Urenui Beach Reception and Shop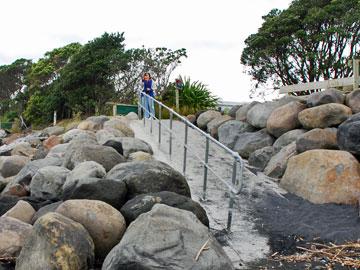 Beach access from the campground
Boat ramp into the river
Urenui Beach Campsite is located at the southern entrance to New Plymouth and offers spacious grounds with plenty of choice for parking, and access to the beach.
We were impressed by the spacious grounds, and were given a friendly welcome by the owner, who was chatting with friends at the entrance to the shop.
The campsite is well established, and all the facilities were clean. Access to the ocean beach was from the rear of the campsite, where parking was also available.
There is also a boat ramp provided access into the Urenui river.
A significant portion of the grounds were allocated to well maintained permanent cottages, arranged nicely in streets. I imagine that the campsite focus is more on providing a great retirement location near the beach, including a small shop that would provide for most daily needs.
The campsite itself is likely to be well used by local people, especially over the summer holiday season.
POST A COMMENT: