SOUTHLAND: FIORDLAND
Mirror Lakes

6178 Te Anau-Milford Hwy, Fiordland National P, Southland
rvexplorer id: 18590
Lat-Long: -45.02836, 168.01135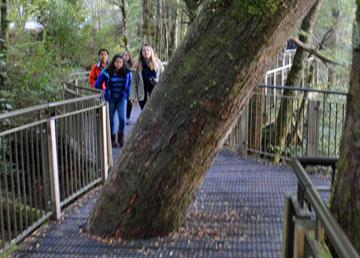 Walkway to the Mirror Lakes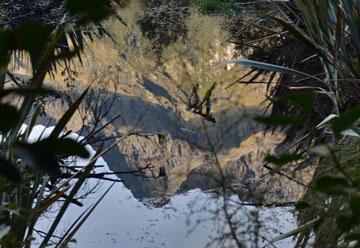 The Mirror Lakes are just off the Te-Anau to Milford highway, just before Knobs Flat. On a clear day, especially in the morning, the views are just stunning.
We had stayed the previous night at the Knobs Flat campsite, having driven past the Mirror Lakes on our way there. It was too late in the afternoon to be worth stopping, and we planned to stop on our way back from Milford Sound.
However, we were advised at the campsite that morning is the best time to see the reflections, so we drove the short distance back before continuing on to Milford Sound. We were very glad we did, as it was a beautiful clear morning, but was raining when we came back again.
That is one of the lessons from this highway - the weather can change very quickly. It is a rain forest after all. So, if you have fine, clear weather, take full advantage of it while you can!
The lake reflections could be seen from a walk along the viewing area. However, the lake surface was covered with debris from the wind the night before. However, we did find some perfect reflections near the main entrance, which I've included here.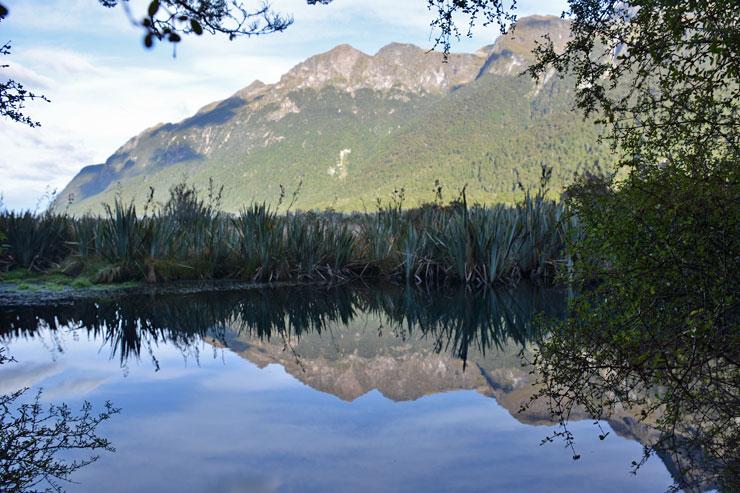 POST A COMMENT: