OTAGO: NORTH
Katiki Middle Reserve

4142 Hampden Palmerston Rd, Moeraki, Palmerston, Otago
Phone: 03 433 0300
rvexplorer id: 18166
Lat-Long: -45.40551, 170.83321
Beach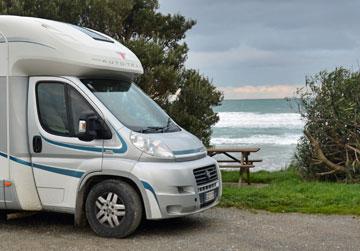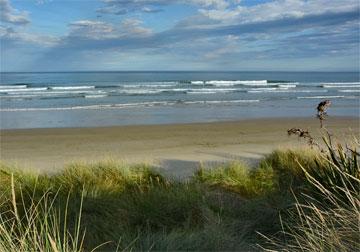 Katiki beach
The reserve in the middle of Katiki beach is much larger, but more open. Overnight parking is available for self-contained vans.
We called in just as it was starting to get dark, and found a nice spot for parking overnight. There were a couple of other motorhomes on the other side of some bushes.
Unfortunately, soon after dinner, our power supply failed. The house battery voltage was down so low that the TV just cut out.
So, it was out with the lights, and an early night, followed by anguished phone calls the next morning to AA Solar, who finally identified that the shunt for the solar controller had become covered with road dust and was interfering with the battery charging.
The only solution was to head off to Dunedin and plug into a powered site at a campsite, and then to find a good auto electrican.
Otherwise, it was a really nice location with a golden sand beach, We woke up to a stunning sunrise, but weren't really in the mood to enjoy it.
UPDATE 13-Mar-2018
Heading south again, this time with all systems working. This is a nice place to overnight, and we were treated once again to a stunning sunrise.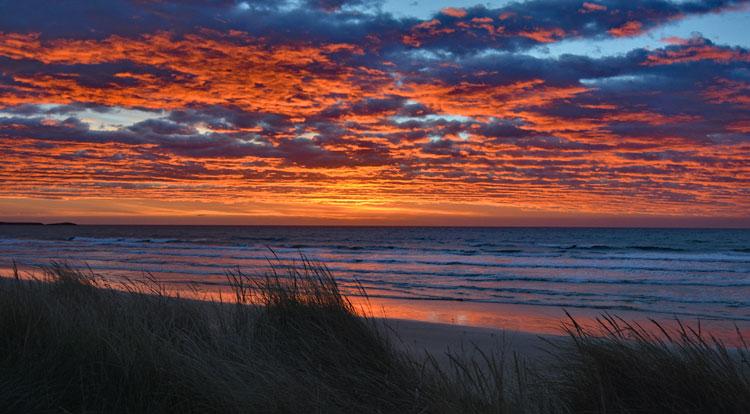 POST A COMMENT: