HAWKES BAY: HASTINGS
Evers-Swindell Reserve

Clive Terrace, Clive, Hastings, Hawkes Bay
Phone: 06 871 5000
rvexplorer id: 17836
Lat-Long: -39.58303, 176.91648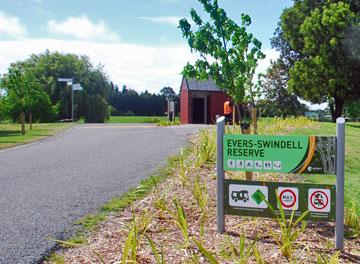 Entrance to the Evers-Swindell Reserve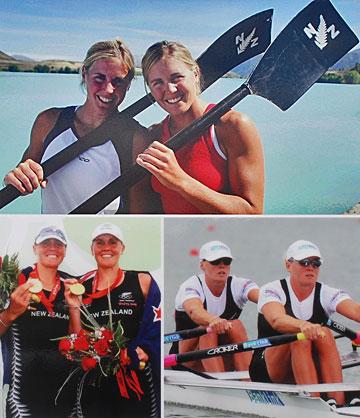 Entrance to the Evers-Swindell Reserve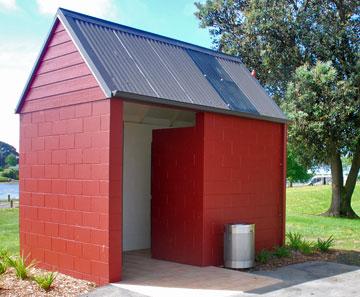 Clean public toilets
The Evers-Swindell Reserve is a prime location along the Tukituki river and within a short walk to the Clive shopping centre. Overnight parking is allowed.
It used to be called the Clive Ski Reserve, but was renamed in honour to the sporting achievements of the twin Evers-Swindell sisters, whose success with the double skulls nationally and internationally ulimately resulted in winning gold at both the 2004 and 2008 Olympic games.
This is one of our favourite locations in Hawkes Bay, and we've stayed overnight on a number of different occassions.
It's a popular reserve during the day, with athletes training, and local people just enjoying the river. The cycleway also goes past the parking area, making it a great location to go exploring the local area if you are travelling with bikes., Likewise, the river is a big attraction if you're travelling with a kayak or small boat.
It's quiet overnight unless you park under one of the large trees when it is shedding seed pods. The local council compliance officer is often around to check that you are self-contained, and that you're not staying to too long. We found him to be friendly, and enthusiastic about motorhomes and caravans staying over.
The local council requests a gold coin donation for staying overnight to help maintain the reserve facilities. It's optional, and paid into an honesty box. We hope motor caravanners will make a point of contributing as a way of saying thank you. Not many other New Zealand councils have done so well.
There are well maintained public toilets at the entrance to the reserve, and there is also a small childrens play area.
We love that the reserve is well used by the local community and motor caravanners alike. It's convenient for shopping, safe, and we've seen some simply stunning sunsets.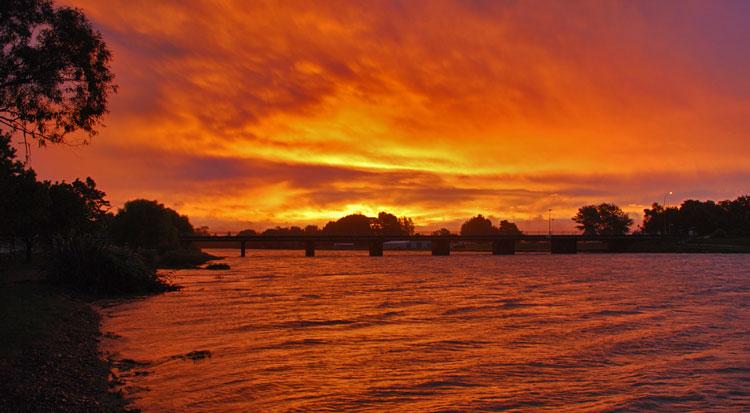 POST A COMMENT: