AUCKLAND: HIBISCUS COAST
Pinewoods Motor Park

23 Marie Ave, Red Beach, Whangaparoa, Auckland
Phone: 09 426 4526
rvexplorer id: 17690
Lat-Long: -36.60198, 174.70593
Beach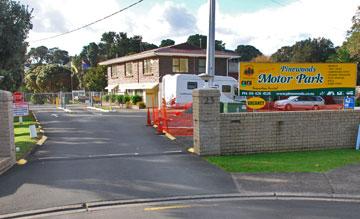 Entrance to the motor park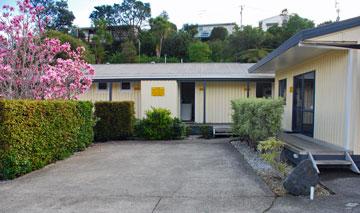 Shower and toilet facilities
We called into Pinewoods Motor Park towards the end of winter, on a beautiful sunny aftrernoon.
Red Beach is at the base of the Whangaparoa Peninsula, just south of Orewa. Like the other North Shore suburbs of Auckland city, it provides a beach lifestyle in a city environment.
The Motor Park is nicely laid out, with on-grass parking and nice facilities. Everything is clean and well maintained.
We were a little surprised at the 4 minute limit on shower time given it's proximity to Auckland. Otherwise it would be a nice place to stay, without going too far from the city.
POST A COMMENT: