WEST COAST: GLACIERS
Lake Matheson - DOC

end of Lake Matheson Rd, Fox Glacier, West Coast
rvexplorer id: 18636
Lat-Long: -43.44815, 169.96961
Lake, Rural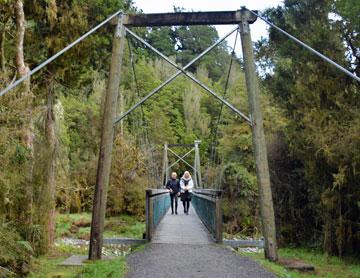 The start of the walk to the lake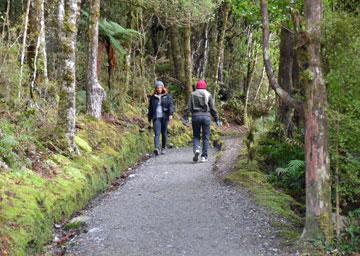 Walking through the forest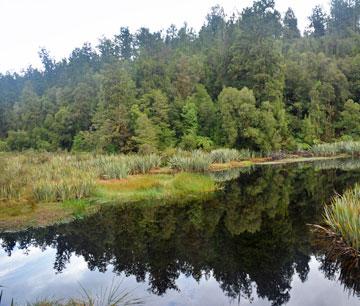 One of the many reflection viewing places around the lake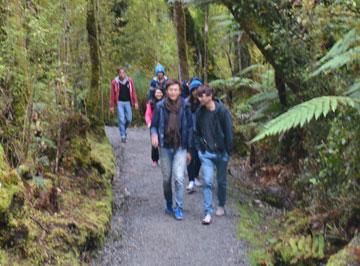 Returning from their walk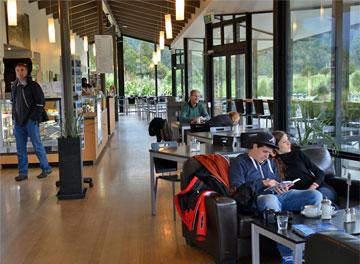 Having lunch in the cafe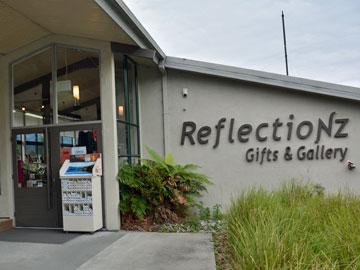 The Reflections Gift Shop
Lake Matheson is an iconic attraction, being small enough to walk around, and strategically place to reflect the Southern Alps mountains on the lake surface.
We arrived on a gloomy late afternoon in autumn, looking for somewhere suitable to park overnight. All we knew about Lake Matheson was from pictures of snow capped mountains reflected in its still water.
We were driving out to Clearwater Stream, where we knew we could park overnght, but decided to check out the lake when we saw it signposted on the main road.
What a pleasant surprise! The Department of Conservation (DOC) has recently built a large sealed carpark and had made it available for free overnight parking. It was the perfect place to overnight, allowing us to go for a walk around the lake the next morning.
There were only a few other vans parking overnight, but there is plenty of room, and you are likely to find a space even over the busy summer period.
There is also a large, and very nice cafe, and a gift shop, next door. They are privately owned, and are kept busy by the large number of visitors that come to see the lake.
The next morning was cloudy, but at least not raining, and we walked around that lake - which takes around 2 hours. Even with cloudy skies, the lake reflections were pretty amazing. We took lots of pictures, but I'd really love to come back again on a clear sunny day.
The cafe was, of course, strategically placed to look wonderfully attractive to anyone returning from a 2 hour walk, and we called in to have a very nice lunch. The walls were decorated with the works of local artists, and the view from inside was pretty amazing.
Even the gift shop was worth exploring, offering all the usual momentoes - but of a good quality.
This is a premium location for motor caravanners! One of the very few we'd rate at 5 stars.
If you're exploring the West Coast, and you've got half-way reasonable weather, and you're up for a walk, then this is a 'must visit' location.
We'll come again. Loved it!
20-Jan-17
We have just been advised by DOC that overnight parking is not allowed in the carpark, even if certified self contained.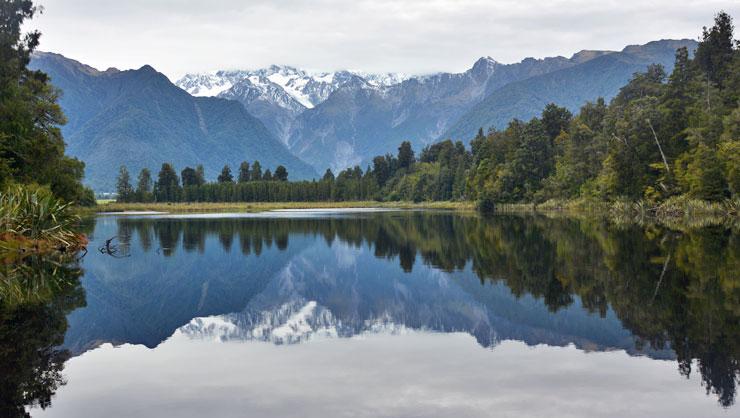 Our favourite picture of the lake reflections - good even on a cloudy day!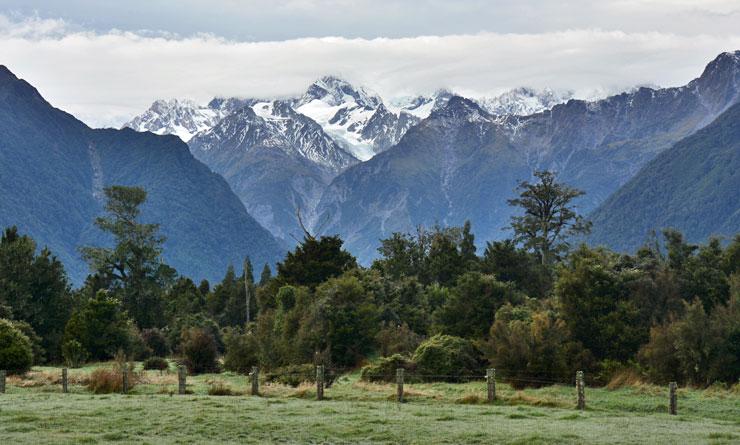 POST A COMMENT: