WELLINGTON: PORIRUA
Ngatitoa Domain

Pascoe Ave, Paremata, Welllington
Phone: 04 237 5089
rvexplorer id: 19223
Lat-Long: -41.09773, 174.86528
Beach, Town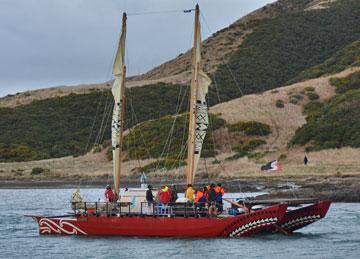 Maori sailing boat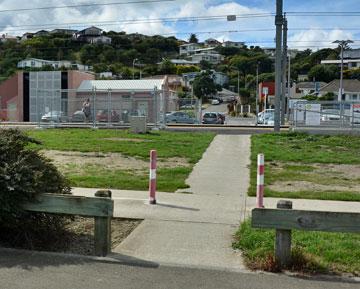 Path leading to the railway station and shopping centre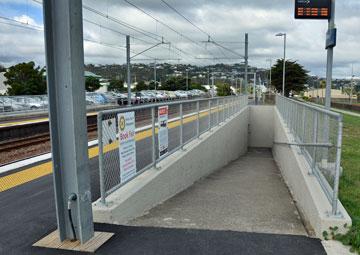 Railway underpass connecting to the shopping centre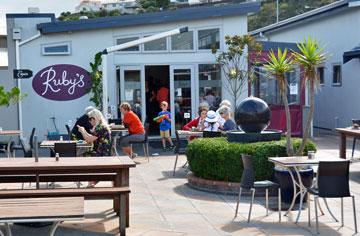 Ruby's cafe
Ngatitoa Domain is a large reserve overlooking Onehunga Bay, and where self-contained motor caravanners can freedom camp.
This is one of our favourite freedom camping locations - a prime spot with a beautiful view over the harbour. Plenty of room for parking. Access to boating and fishing if you want to. A 5 minute walk to the small shopping centre with a New World supermarket and Ruby's Cafe. Excellent mobile internet coverage, and strategically placed rubbish bins.
The railway runs past the shopping centre, and there is an underpass going under the tracks. Or you could take the train into the Wellington city should you want to visit Te Papa, or any other Wellington attractions.
Self-contained motor caravanners can stay up to 3 nights at a time.
The Porirua City Council have really set the standard for how freedom camping should be done - and it appears to be working well. There are lots of vans enjoying the domain, and with no evidence that we saw of campers leaving rubbish behind. We felt welcome and appreciated.
We'd love to see other councils learning from this. Councils like the Queenstown Lakes pretty much ban freedom camping anywhere that is worth staying. Others like the Thames-Coromandel council impose unnecessary restrictions on where you can park. And just up the coast, the Horowhenua council requires that you get a permit before you can park overnight.
There are many other examples, but for us, the Porirua City council have done it right.