WAIKATO: WAIKATO
Bridal Veil Falls

Kauroa-Kawhia Rd, Raglan, Hamilton, Waikato
rvexplorer id: 17521
Lat-Long: -37.90726, 174.90086
Forest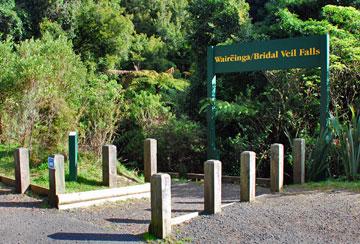 Entrance to the Bridal Veil Falls bush walk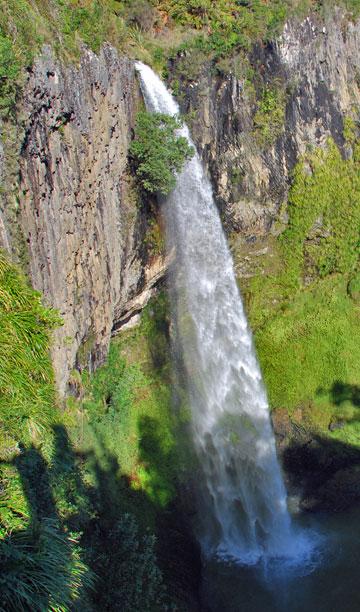 Bridal Veil Falls viewed from the mid-level platform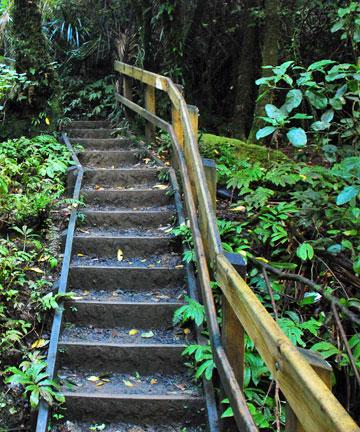 The stairs leading to the bottom of the falls
The Bridal Veil just south of Raglan are yet another of those iconic Kiwi attractions that few people know about. We decided to have a look on a sunny mid-winter afternoon after spending a night at the Raglan Kopua Holiday Park. The road to the falls is all sealed, making for a pleasant drive past the wind farm and through farmland.
There were only a few cars in the falls parking area, so I would imagine that it would be quite busy in summer, with not too many options if there is no room left in the carpark. Three large vans would pretty much fill it up.
The forest walk to the falls was great. The track was well maintained, and included walking along the river feeding into the falls.
You can view the falls at three different levels - from the top, half way down, and at the bottom. The sign at the entrance advises that it is a 10 minute walk to the falls. However, once at the top of the falls, there are a lot of steps to descend down to the bottom. To enjoy the environment, you should plan for about an hour for the return trip.
As a day trip on a sunny day, this is well worth the detour. The falls are quite spectacular, and it is worth taking the time to go down to the bottom.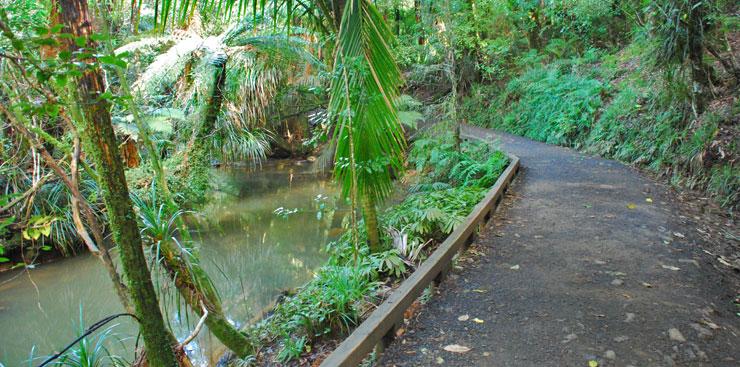 POST A COMMENT:
04:08 PM 07-Dec-18
by Chris Gaelic
from Auckland
Public
Thanks for that, Magic. I've removed the freedom camping icon.
10:40 AM 05-Dec-18
by Magic
from Auckland
Public
You can not freedom camp here. More no camping signs than tourists. Damn shame!!