WAIKATO: WAIKATO
Port Waikato Holiday Park

115B Maunsell Rd, Port Waikato, Tuakau, Waikato
www.portwaikatoholidaypark.co.nz
Phone: 09 232 9857, 0800 276 259
rvexplorer id: 17643
Lat-Long: -37.39132, 174.72201
Beach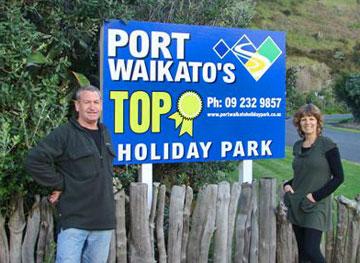 Pat and Deidre at the entrance to their holiday park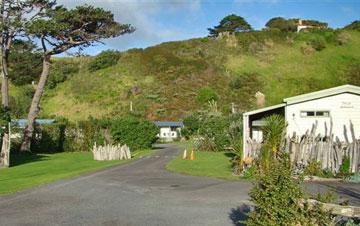 We drove down to Port Waikato in mid-winter, intending to have just a quick look around en route to Raglan, where we were planning to stay for the nght. It was a beautiful sunny afternoon when we arrived, and we pulled into the campsite reception parking area and chatted to Deidre at reception for a while before having a look around the grounds to take some pictures.
On returning to our motorhome, Deidre's husband, Pat, came over for a chat. All enthusiastic, having bought the campsite a couple of months earlier, they had fallen in love with the location and were busy sprucing everything up in preparation for the warmer weather. Pat's pet project is to upgrade the track to the top of the hill, which offers great views and magnificent sunsets.
After sharing stories about growing up in the country, and fishing for mullet on the beach, Pat introduced us to another Port Waikato secret - freshly smoked mullet, caught by one of the local fisherment, bringing back childhood memories for me of barbequing freshly caught mullet on the beach. What a treat!
For those who don't know, mullet is one of our most under-rated fish, and is very seldom found in any of the supermarkets. It is rich in Omega 3 oils, which also makes it a great choice for smoking or barbequing. If you have a suitable net, then you can go out and catch them yourself.
Pat also warned me not to use the scenic coastal route to Raglan as there was heavy contstruction work being done, and the road was currently not safe for cars for motorhomes. With that advise in mind, we headed back towards Hamilton and joined up with highway 22.
The campsite is clean and well laid out, and only a short walk to the Waikato River beach reserve. It's quiet, and an ideal location to just chill out, take long walks out over the sand dunes. You can fish from the rocks, catch mullet and flounder if you have a net, and there is also white bait in season. The climb to the top of the hill would be a great way to get some excercise and check out the sunsets.
Overall, Port Waikato is a special location. Totally unpretentious, it is typical of where Kiwis go to enjoy a rural-beach lifestyle. We'll be back.
Note, if you are driving a diesel vehicle, be sure to have enough in the tank before you come. You can fill up at the general store, but they only provide petrol.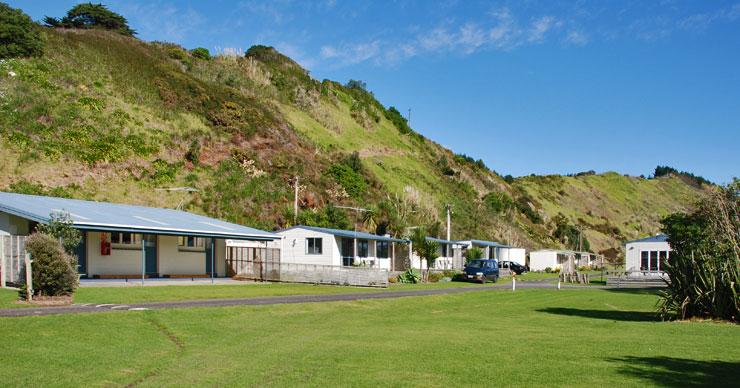 POST A COMMENT: