WAIKATO: SOUTH-WAIKATO
Oxford Royal Hotel - Tirau

8 Main Rd, Tirau, Waikato
rvexplorer id: 17476
Lat-Long: -37.98051, 175.75968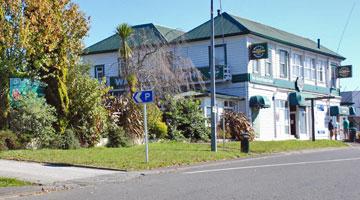 Entrance to the parking area for the Oxford Royal Hotel in Tirau
Lunch at one of the cafes in Tirau
Checking out the Oxford Royal Hotel POP in Tirau turned out to be something of a surprise for us. The hotel was closed, and in the process of being auctioned, making its status as a POP rather uncertain. In any event, the parking area was overgrown and not particularly attractive.
But this wasn't why we were surprised.
We arrived on a Sunday afternoon, just having driven up from Rotorua, and were immediately impressed by the shops all being open, and the number of people out in the cafes, and other shops. Coming from Rotorua, and having been in many other small towns on a Sunday, seeing everything open, and humming with people, was the surprise.
The Bendon outlet was having a 'once in a lifetime' sale. The cafes were full, The art and craft shops, and other specialty stores all open and busy.
We decided to stay on for lunch even though we had planned having our own lunch at Lake Karapiro. On a warm autumn afternoon, it was a really pleasant town to explore.
Overall, we left hoping that, whoever the new owner of the Oxford Royal Hotel might be, they will tidy up the parking area and continue to offer overnight parking for self-contained motor caravanners. Tirau is worth a visit in its own right.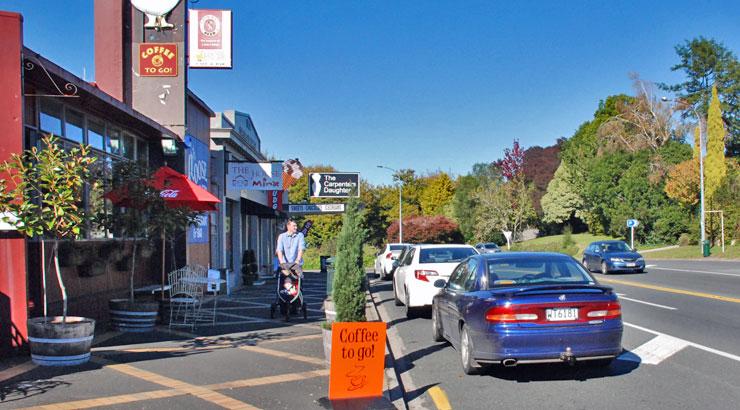 POST A COMMENT: