WAIKATO: SOUTH-WAIKATO
The Haggas Lookout

971 Te Anga Road, Waitomo, Hamilton, Waikato
rvexplorer id: 17526
Lat-Long: -38.26285, 175.02788
Forest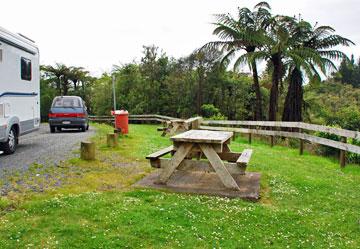 Haggas Lookout picnic area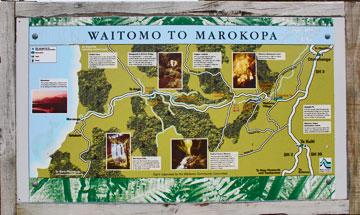 Locations along the road from Waitomo to Marokopa
The Haggas Lookout provides a natural viewing area looking out over private farmland covenanted with the QE2 National Trust. The Waitomo valley has more than 800 hectares of land that has been voluntarily convenanted to ensure protection of unique features and biodiversity.
While not a large parking area, it is available for self-contained motorhomes to park overnight. It is a relatively quiet road and quite isolated, so it would be a good idea to park over with more than just the one motorhome.
While the view is partially obscured by trees, it is well worth stopping, even if only for a coffee break. We found it enjoyable just to sit ouside on a nice day and take in the view.
There are some signs describing what you can do along the road to Marokopa, as well as more information about the land covenanted to the QE2 National Trust.
Excellent Vodafone mobile access, so, if you are travelling to Marokopa, this also a your last chance to catch up on phone calls and emails as there is no coverage at all until well past Marokopa.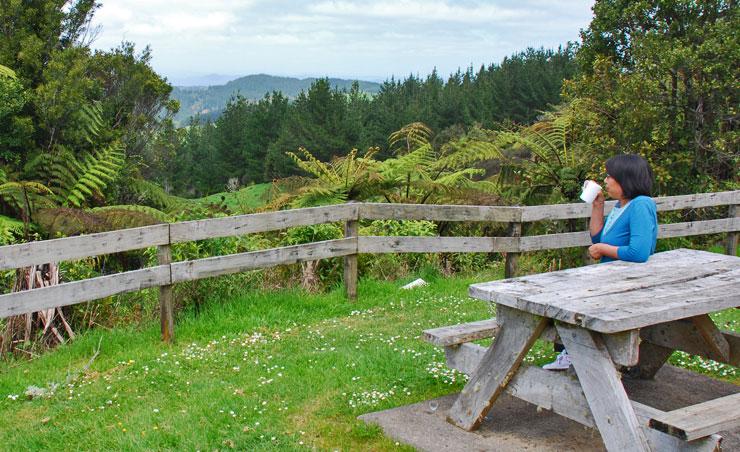 POST A COMMENT: