WAIKATO: SOUTH-WAIKATO
Waitomo Top 10 Holiday Park

12 Waitomo Caves Rd, Waitomo Caves, Otorohanga, Waikato
Phone: 07-878-7639
rvexplorer id: 17524
Lat-Long: -38.26023, 175.11025
Rural, Town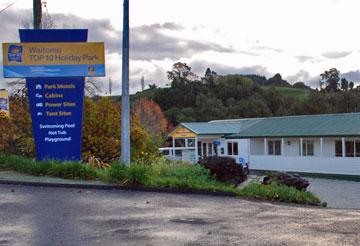 Entrance to Waitomo Top 10 Holiday Park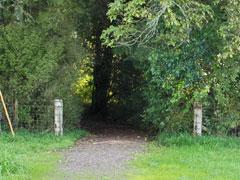 Start of the bush walk to the caves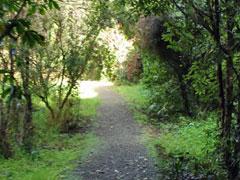 Walking through New Zealand bush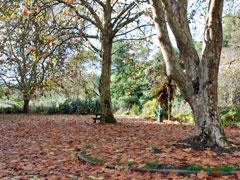 Forest clearing in autumn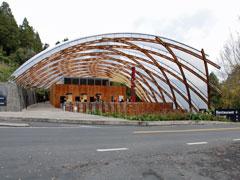 Entrance to the Waitomo Caves tour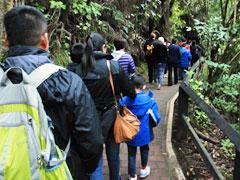 Going on the tour
Staying over at the Waitomo Top 10 was our first experience of motorhoming in winter. We figured that, with a storm system due the next day, it would make sense to stay in a location where we could check out the caves, or just chill out without being too concerned about the weather.
We also thought that the advertised hot pool sounded like a good idea, but then I chickened out because it was too cold outside. Shuping reckoned that it was pretty good though.
We checked in for two nights, planning to head off down to Taranaki after the storm has passed through. As it turned out, the weather forecast was pretty accurate, with most of the country reporting heavy rain and wind on the news. However, we seemed to have missed most of it, maybe because Waitomo is in valley and somewhat sheltered.
It was early afternoon when we arrived, and the weather was still fine, so we went for a walk to the original cave system that was opened up. That took us through a short bush walk. through a tunnel under the main road, and into the main entrance. It was clear that the caves were doing quite well, with bus loads of visitors arriving, and people queuing up to buy tickets.
We booked into just the one tour, which involved descending down many stairs, a boat ride on the river to see the glow worms, as well as trying out the cathedral and viewing the amazing limestone formations. It was a very interesting experience, and well worth going on.
After the tour we walked down the road to the information centre and geenral store, which were both across the road from the campsite. The general store offered free wi-fi and was full of people drinking coffee and catching up on their emails.
There are two other cave systems that also have tours, but these were a little further away, and we opted to just spend the next day catching up on preparing images and writing up reviews of the places we've previously visited. Mobile internet access was excellent.
The campsite facilities were excellent - clean and reasonably new. The showers were metered, but gave a generous 10 minutes.
However, early the next morning we woke up to a loud hum which appeared to come from the swimming pool fitration system. To date, that would have to be the noisiest stystem we have heard in any campsite. It was only on for 3 or 4 horus, but it did spoil what would have otherwise been a very peaceful, quiet environment. Hopefully it was a temporary problem.
Overall we enjoyed our stay. The tour through the caves was great, and we might well come back and do the other two tours on another occasion.
After the second morning, we checked out, and headed off to Taranaki. The weather had come right almost exactly as forecast,. There wasn't a cloud in the sky, and we were ready to roll. Unfortunately, a red warning light appeared on our motorhome dashboard just as we were leaving. Serveral phone calls later, we were heading back to to Auckland, crawling up hills, with a broken fuel injection system.
Sorry, Taranaki - you'll have to wait...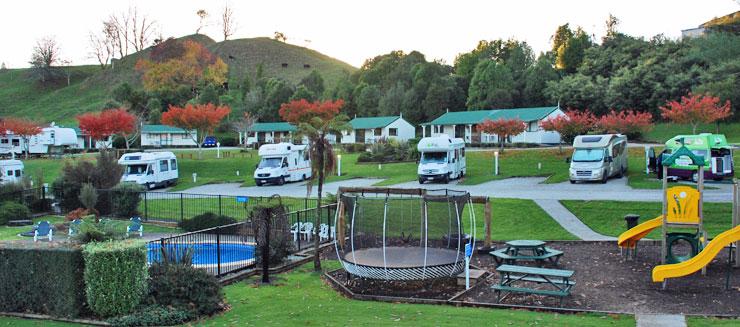 POST A COMMENT: