WAIKATO: OTOROHANGA
Kawhia Beachside S-Cape Holiday Park

225 Pouewe St, Kawhia, Waikato
www.kawhiabeachsidescape.co.nz/
Phone: 07 871-0727
rvexplorer id: 17531
Lat-Long: -38.06053, 174.82748
Beach, Town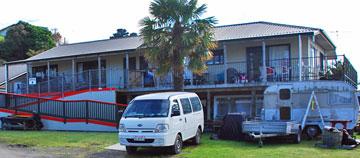 Reception and Owner's house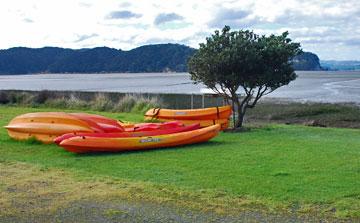 Kayaks hibernating over winter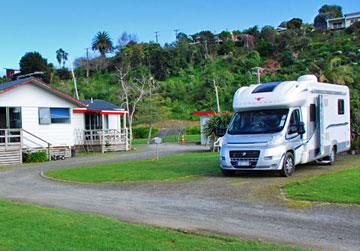 The one all-weather powered site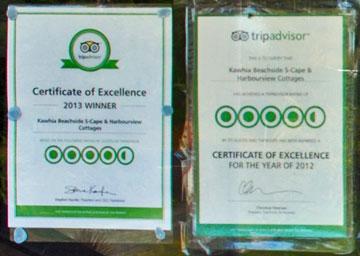 Trip Advisor Certificates of Excellence
Kawhia is one of those quintessential New Zealand coastal towns - where local people enjoy their lifestyle, and are ok with sharing it with summer visitors.
Of course it was also friendly when we arrived in mid-winter, but the town was pretty quiet, with nothing much open and the holiday parks mostly empty.
We checked into the Beachside S-Cape in the late afternoon, receiving a friendly welcome from the temporary manageress who was filling in while owners were on holiday. She assigned us to their only all-weather powered site, and advised us that the shops in the town were all closed on Monday and Tuesday over winter. We arrived on a Monday evening, so it was just as well we had everything we needed.
Our initial impression on walking up the ramp was of the chaotic pile of building materials under the house. There was nothing pretentious about the camp, and even the beach was mostly rushes. Our hostess assured us that the tide did come in, but we never saw that.
I suspect winter is really not the time to get the best impression of what this camp has to offer. The office window proudly displayed Trip Advisor certificates of excellence for both 2012 and 2013 - stuck on with blue tack, but impressive non-the-less.
The kayaks hibernating over winter, provided some hint of the fun that might be had in warmer weather when the camp owners return from their holiday.
It is not a large park, and it would fill up rapidly over the summer holiday season. The powered sites were all on grass except the one all-weather site.
The facilities were old but well maintained.
Everything felt comfortable - which pretty much sums up our overall impression. I would think that it would be a great family type location over summer, with the kayaks, fishing, and collecting shell fish.
POST A COMMENT: