WAIKATO: HAURAKI
Miranda Holiday Park

595 Front Miranda Road, Waitakaruru, Thames, Waikato
Phone: 07 867-3205, 0800-833-144
rvexplorer id: 17456
Lat-Long: -37.20713, 175.33295
Beach, Rural










It was a beautifully clear sunny autumn day, following some stormy weather that affected most of the country. Stuck at our home base in Auckland, we couldn't wait to get on the road again. However, we weren't able to leave until after 5:30pm, so we decided to drive for an hour to the Miranda Holiday Park and check out their hot spring before continuing on down the Western Bay of Plenty coast to Whakatane.
It proved to be a good decision - the park was dark when we arrived, but we were able to check in and get ourselves set up. The park was nicely laid out, with excellent facilities.And the hot pool was set in a landscaped outdoor area, partially covered with a canvas sail. In the cool autumn air, the steam rising from the surface of the water looked inviting, and we joined the others in the pool for a long soak. There was a hint of sulpher in the air, and we could feel the effect of the minerals in the water on our skin. The temperature was just right, and we thoroughly enjoyed looking up at the stars. A very nice way to finish of the day.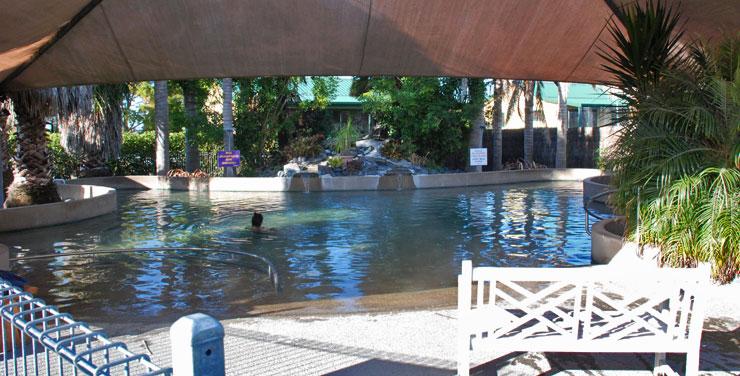 The next morning we had a good look around the park. It was well occupied given that it was late autumn. The couple next to us had come over from Sydney, Australia, and were celebrating their 30th wedding anniversary with their first night in a rented motorhome. They were planning to explore the Coromandel peninsula over the next few weeks.
For those of you who really enjoy soaking in a hot mineral pool, this is a really nice place to stay. The cost is very reasonable, and, on weekdays in the off season they offer 3 days for the price of 2. The 6 minute showers were also a real luxury and both the mineral pool and showers were included at no extra cost.
You can also rent bicycles if you want to go exploring, and there is a limited amount of basic provisions for purchase in the camp office. Chalets are also available if you are not travelling in a motorhome or caravan.
You can read more at the Miranda Holiday Park website.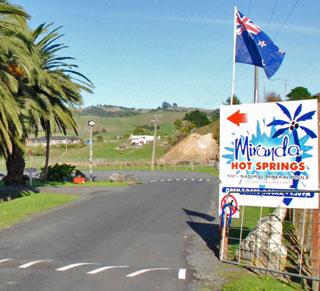 Miranda Hot Pools - next to the Miranda Holiday Park
Next door, there are the Miranda Hot Pools - so, you can call in an enjoy the spa even if you are not planning to check into the hoiday park.
There is also a restaurant available if you'd like to eat out.
POST A COMMENT: