WAIKATO: COROMANDEL EAST
Ferry Landing

rvexplorer id: 17420
Lat-Long: -36.83162, 175.71134
Beach


We were running low on provisions so drove to Ferry Landing to catch the ferry to Whitianga. It was a nice sunny Autumn day, and we parked in the large car park at the top of the hill and walked down to the wharf. The ferry runs back and forth non-stop during daylight hours, and we were soon on board.We paid our $5 each and a few minutes later we got off at Whitianga.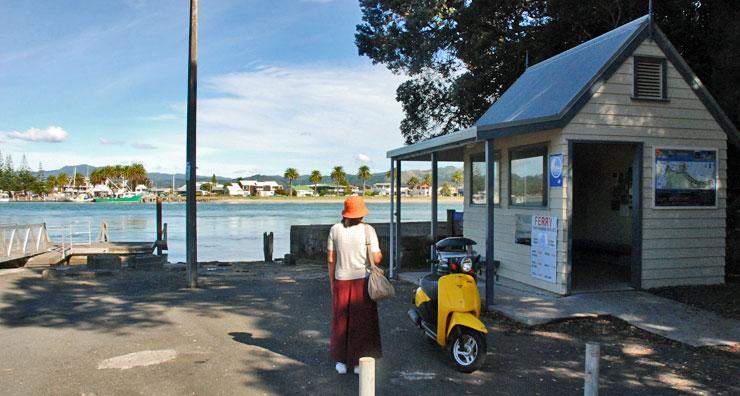 Whitianga, of course, is a destination in its own right, but that will be for a future trip. On this occassion we were only looking for a quick lunch, and then a supermarket to buy some meat and veges.
Lunch was easy as there is an abundance of eating places of almost every description in Whitianga. However, finding a supermarket proved to be a bit more of a challenge. In the end we asked for directions at the local i-Site, and were pointed towards a New World located a couple of blocks down the road. Well, at least we got our exercise for the day...
On the way to the New World we noticed one of the residents cleaning down a Kontiki Seahorse, and stopped to chat. I was interested because we're planning to get one ourselves, so I was curious to see how he was getting on with it.
It turns out that Nev was visiting from Hamilton and had owned the kontiki for about 5 years. He'd just come back from Otama Bay with a bucket full of fish that he was sharing with friends and family. Otama Bay is just north of Whitianga, so this looks like being another destination for future exploring.
Nev was very happy to share some of his 'tricks' for getting good results with the kontiki. These will appear in a future article on kontiki fishing - but it will have to wait until we have one our own to play with.
We made our way back to the ferry, laden with groceries, and walked back up the hill to where our motorhome was waiting for us. On a warm day after a long walk, she was a welcome site.
POST A COMMENT: