WAIKATO: COROMANDEL EAST
Hot Water Beach Rest Area

rvexplorer id: 17404
Lat-Long: -36.88321, 175.81886
Beach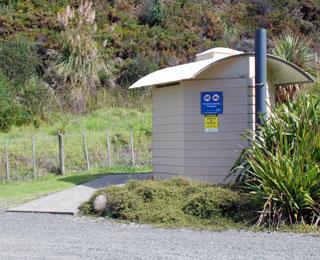 We noticed this rest area as we were driving past to the main Hot Water Beach complex and decided to stop and have a look on the way back. This proved to be a real eye-opener as it provided direct access to the beach, and just a short walk away from area where the hot pools form during the two hours on either side of low tide.
There is a public toilet at the back of the carpark, and would make for a wonderful area for freedom campers to enjoy. Unfortunately, the Thames-Coromandel district council has decreed that not overnight camping is allowed. What a pity!
The parking area is paved and sheltered by the surrounding hills. It would be a great place to spend the night within earshot of the surf beach.
The NZMCA is fighting hard with local councils to get them to reverse some of these restrictions, which are often imposed for quite arbitrary reasons. Hopefully this is one that will finally be resolved, especially now following their successfull action against the West Coast council in the South Island.
There are two springs that feed the hot pools, and these flow upwards from molten rock that was formed about 3 km under the ground around 5-9 million years ago. The spring water can reach 60 degrees Centigrade and contains calcium, magnesium, potassium, fluorine, bromine and silica. All that is needed is a small spade to dig a hole in the sand, which will then fill with a mix of hot spring water and cold sea water.
Low tide was still a few hours away while we were there, so this location in now on our 'future visits' list when we'll bring our own spade and have a soak.
POST A COMMENT: