WAIKATO: COROMANDEL EAST
Tairua - Paku Drive Rest Area

25 Paku Drive, Tairua, Coromandel, Waikato
rvexplorer id: 17399
Lat-Long: -36.99593, 175.86116
Beach





Please take careful note of council's designated parking areas.
You now risk a $200 instant fine if you don't park in the area provided
The parking area at Paku Drive proved to be one of those unexpected discoveries that makes exploring New Zealand so enjoyable. The parking area itself is nothing special, having a view out over the harbour and clean public toilets. Of course it is also one of the few public sites available for freedom camping along the Coromandel coastline, which was the main reason for our viisit.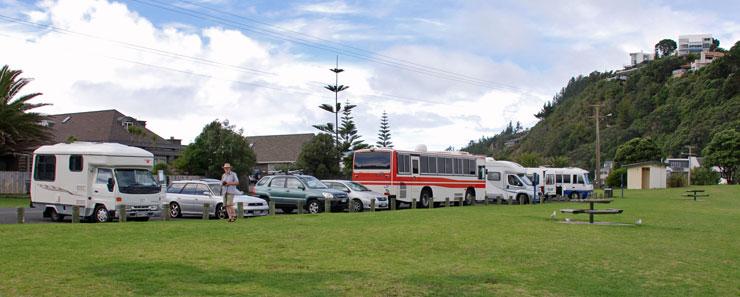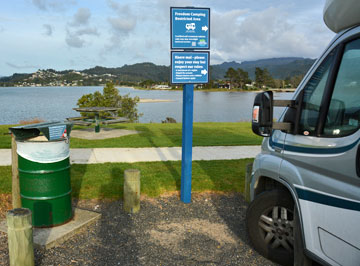 Parking between the signs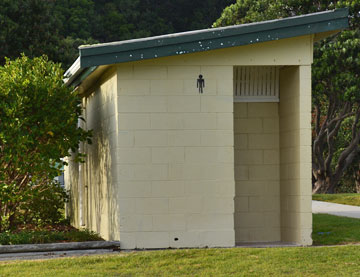 Public toilets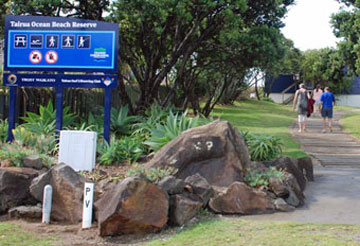 Walkway to Ocean Beach
We found a park and Shuping made some lunch while I chatted with some English visitors who had spent the last month travelling around New Zealand in a rented motorhome. They had especially enjoyed the quiet beaches and small communities that provide a great place for children to grow up, enjoying daily activities like swimming, canoing and fishing.
After lunch we were just about to pack up and leave for our next destination when Shuping decided she wanted to check out what appeared to be a public shower on the other side of the road. We soon discovered that it was the home of the Tairua Ocean beach surf lifesaving club, and also the entrance to the ocean beach - and what a stunningly beautiful beach it was! Golden sand, crystal clear water, and just enough waves for surfing.
We spent the next hour or so exploring the beach and watching a couple of surfers demonstrate their skills. Just as we were leaving, we noticed the wings for a kite surfer being set up, and so we waited a bit longer to see what he could do. We weren't disappointed! Awesome skill! I'd never seen any sommersalt over waves before - at not in real life! I tried to capture it on my camera, but the pictures really don't do him justice. But you can have a look at some of them below - click on them to see the full size image.
We finally dragged ourselves away, feeling that we had discovered more than we had expected in this tiny community of Tairua. Our next stop was only a short drive north to the holiday resort in Hahei.
POST A COMMENT: