WAIKATO: COROMANDEL EAST
Mercury Bay Club

69 Cook Dr, Whitianga, Coromandel, Waikato
Phone: 07-866 5576
rvexplorer id: 19356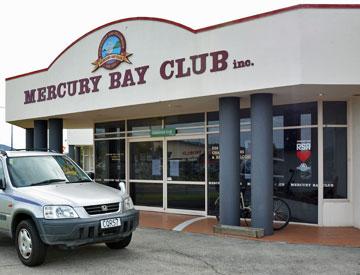 The Mercury Bay Club is just across from the New World supermarket, and provides for free overnight parking for self-contained motor caravanners.
We had arrived in Whitianga quite late in the afternoon, and were having some difficulty finding a suitable location to park overnight. However, we noticed some motorhomes in the Mercury Bay Club carpark when we stopped at New World to top up on some basic supplies. So, having finished our grocery shopping, I drove across to the club, and asked if it was possible to park overnight in their carpark.
The answer was an enthusiastic yes. No need to buy a meal at their restaurant, and we could choose anywhere in their carpark. What a refreshing response. For the first time since arriving, we felt welcome in Whitianga!
We found a nice quiet spot at the end of the carpark and settled down for the night.
By the way, the restaurnant looked very nice - basic roast type meals, but very good value. This has got to be one of the better options for staying in Whitianga, especially if you'd like a night off preparing meals.
POST A COMMENT: