WAIKATO: COROMANDEL EAST
TCDC Carpark

10 Monk St, Whitianga, Coromandel, Waikato
Phone: 07 868 0200
rvexplorer id: 19302
Lat-Long: -36.83388, 175.70643
Please take careful note of council's designated parking areas.
You now risk a $200 instant fine if you don't park in the area provided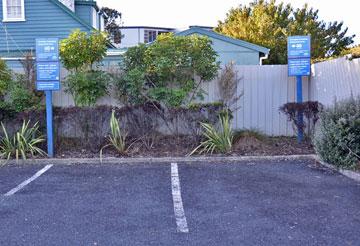 The Thames-Coromandel District Council provide limited freedom camping in their carpark for certified self-contained motor caravanners.
Astonishingly, the 4 slots provided would be impossible for most self-contained vans to manuevre into. They are too narrow and too short. In fact, this is just a standard carpark and no consideration has been given to how four 8 metre long vans ( average size ) could all manuevre into position. Two such vans could do it, but certainly not four.
If you're a significantly smaller van, you are less likely to be certified self-contained. So, while it's a nice thought to provide the space, it's really not too useful.
POST A COMMENT: