TARANAKI: NEW PLYMOUTH
Brooklands Zoo & Art Gallery

Brooklands Park Drive, New Plymouth, Taranaki
rvexplorer id: 17914
Lat-Long: -39.06946, 174.08276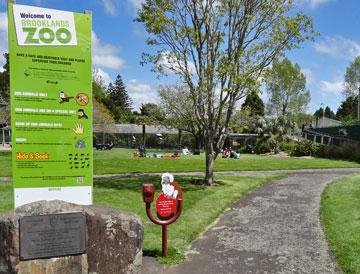 Entrance to the Brooklands Park Zoo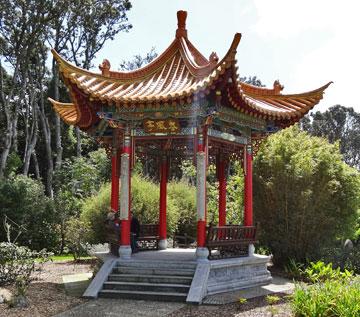 Kumming sister city memorial
The Brooklands Park Zoo is free to visit and includes an adventure playground - a great location to bring children. It is part of the Pukekura Park complex, opposite the soundshell, and next to an art gallery and the Kumming Chinese sister city memorial.
For motor caravanners travelling wih children, this is a choice location. The zoo is family focussed and a fun place for children to run around and let of steam.
Right next door is the Brooklands Art Gallery, housed in an historic building. We spent most of our time in there, admiring the work of some of the local artists. There were 3 paintings that I would have really liked to buy. The prices were very reasonable, but there is not a lot of room for hanging up paintings n our motorhome.
Next to the art gallery is the Kumming Garden which was set up as a symbol of the friendship between New Plymouth and Kumming, its Chinese sister city.
On the other side of the carpark is the the Pukekura Park Soundshell - famous for it annual 3 day womad festival, as well as the many other public concerts held throughout the year.
The entire Pukekura Park complex is a magnificent attraction for both local people and visitors to enjoy. Read more about the gardens and lake.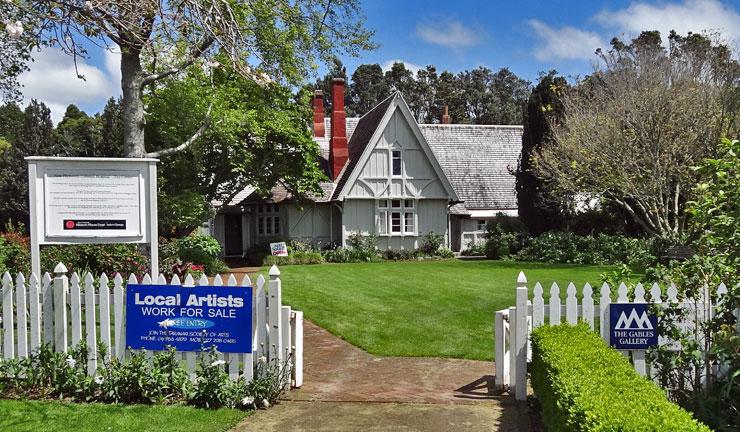 Entrance to the historic art gallery
POST A COMMENT: