SOUTHLAND: INVERCARGILL
Bluff Homestead and Campervan Park

90 Bann St, Bluff , Southland
Phone: 03-212 8800
rvexplorer id: 18581
Lat-Long: -46.60198, 168.34006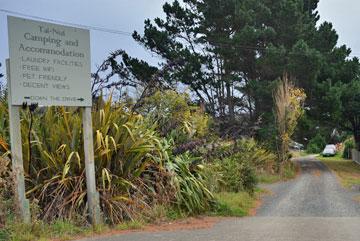 The side entrance to the campsite of Bandon Street
Bluff Homestead and Campervan Park has magnificent views over the harbour, and offers a small campsite area at the back of the homestead.
We arrived just as it was starting to get dark after spending a great day in Bluff, at the Drunken Sailor cafe, and exploring the Bluff Hill walk. We arrived at the main entrance, and didn't see any evidence of the guesthous also being a campsite, and it looked to be closed.
However, on driving around the block to return to the main road, we noticed the side entrance off Bandon Street. Sure enough, it led down to the campsite area at the back of the homestead.
There was still noone at home, and I couldn't see what facilities might be available, so I took some pictures and we headed back down to the Bluff Argyle Campground.
The online reviews for the Bluff Homestead are really good, but unfortunately, we weren't able to check it out properly. The parking area looked pretty basic, but it would be quiet, and the view over the harbour was great.
POST A COMMENT: