SOUTHLAND: FIORDLAND
Manapouri Motorhome &Caravan Park

170 Hillside-Manapouri Rd, Manapouri, Southland
www.manapourimotorhomeandcaravanpark.co.nz
Phone: 03 249 7669
rvexplorer id: 18247
Rural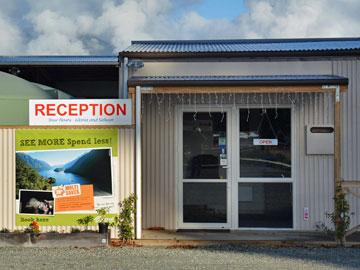 Campground reception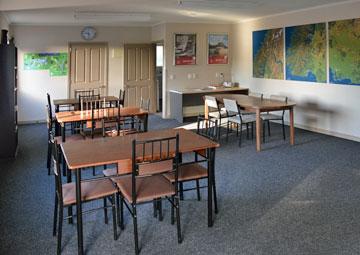 Dining room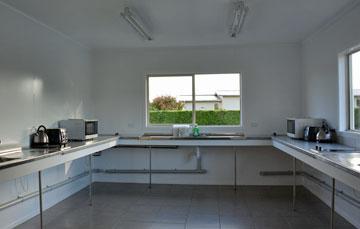 Kitchen
Manapouri Motorhome & Caravan Park is the first campground at the entrance to Manapouri town. Newly built, it is very large and has ultra-modern facilities.
We had just driven up from Invercargill, and were looking for somewhere to park overnight in Manapouri so that we could make an early start on a lake cruise the next morning. It was getting late, so we pulled in to this camp ground and booked in for the night.
In mid-autumn, we were the only guests, and occupied one of the powered site as close as possible to the shower facilitie - it was getting pretty cold outside!
The showers were a very pleasant surprise - not only were they almost new, but each was set up as a luxurious private ensuite. Very enjoyable!
The only negative was the trek back to our motorhome on a really cold night. The next morning I found out that there are also powered sites in the sealed area near to the abultions block, so we'll chalk that one up for next time.
While we didn't make use of the kitchen and dining area, those facilities were also very comfortable and nicely laid out.
Oveall, we were happy with our choice for the night, especially given the very modest cost.

POST A COMMENT: