OTAGO: QUEENSTOWN LAKES
Hectors Woodland Holiday Park

16 Kent St, Kingston, Otago
Phone: 03 248 8501
rvexplorer id: 18257
Lat-Long: -45.33801, 168.72298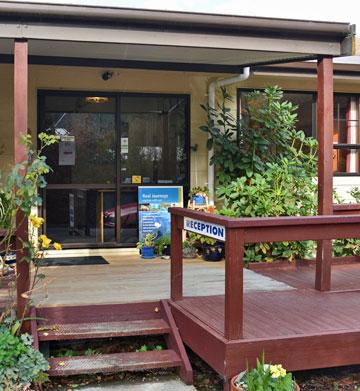 Campsite reception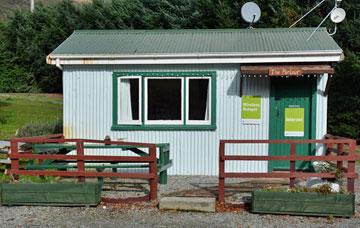 Wi-fi room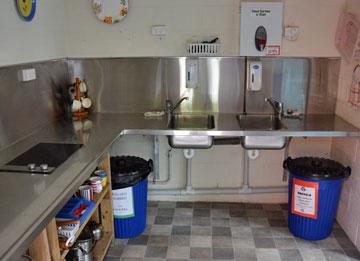 Campsite Kitchen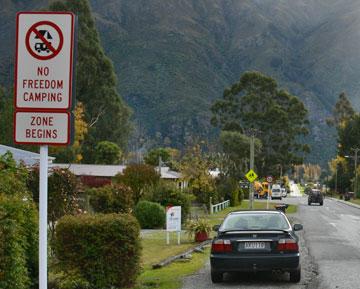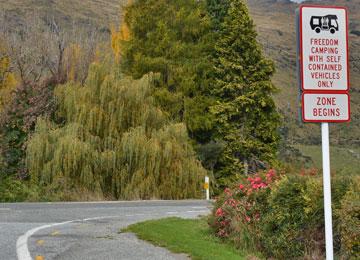 Hectors Woodland Holiday Park is in a tiny Kingston community at the southern end of Lake Whakatipu.
We called in on a sunny afternoon on our way to Queenstown from Te Anau. It's a really pretty location in mid-autumn, and is the home of the Kinston Flyer - which was unfortunately closed down because running the vintage steam train became uneconomic.
The campsite is in a nice location, but not on the lake front. It's not large, but has room for at least some large motorhomes. It's a typical 'Kiwi' campsite, with fairly basic, but clean, facilities.
Unfortunately, our first impression on entering the town was the prominent sign advising that the 'No Freedom Camping Zone Begins'. We were to later realize that this is standard throughout the Queensland Lakes district. On leaving the town, and equally prominent sign announced that the 'Freedom Camping Zone Begins'.
Fair enough, I suppose. The holiday park doesn't want potential customers parking right on the lake front, but at least there would be more places further up the lake - and there was, just 6 km further north.
It was a nice location as well. However, it was also the last 'Freedom Camping' site that we found around the lake.
We saw the same signs on entering and leaving Queenstown, Glenorchy, and Arrowtown. And yet, nowhere else was there lakeside parking suitable for a larger motorhome.
Lake Whakatipu is just stunningly beautiful on a clear autumn day. We were excited to have finally made it to this famously beautiful part of our country.
Unfortunately, we were not able to enjoy what we had come to experience.
Even worse, signs that proclaimed, 'Freedom Camping Zone Begins'. when there is nowhere suitable to park overnight are like a sick joke.
We did stay overnight in a very nice DOC campsite just north of Queenstown, but that was enough for us. We felt unwelcome, and we moved on.
For motor caravanners not familiar with the issues surrounding 'Freedom Camping', we've covered it in more detail here.
POST A COMMENT: