OTAGO: NORTH
Katiki North Reserve

4142 Hampden-Palmerston Rd, Moeraki, Palmerston, Otago
Phone: 03 433 0300
rvexplorer id: 18165
Beach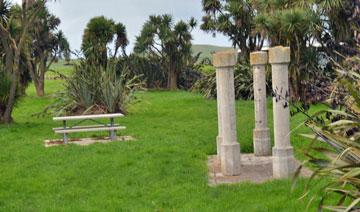 Picnic area by the beach
The small reserve at the north end of Katiki beach is available for overnight parking for self-contained vans. There is room for large vans, but only a few of them.
When we arrived late in the afternoon in mid-autumn, there were already two motorhomes occupying the best locations, so we continued on down to the middle parking area.
This was a nice sheltered location and would have been a good overnight park. I imagine it would be hard to find empty in the summer holiday season.
There is also a nice grass area for picnics.
POST A COMMENT: