OTAGO: NORTH
All Day Beach

Waianakarua Rd, Oamaru, Otago
Phone: 03 433 0300
rvexplorer id: 18158
Beach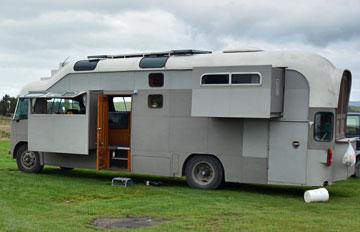 Converted Bedford motorhome at All Day Beach
Just south of Oamaru, All Day Beach provides beach access and overnight parking for self-contained vans. It's a popular spot, with a golden sand beach and some sheltered parking.
I was busy taking some pictures when I copped some friendly abuse for the Dutch owner of the converted Bedford motorhome - one of those interesting characters that you can meet up with while travelling.
We had a great discussion about the lifestyle, and some of his experiences, having spent four years travelling around the North Island, and now working his way down the coast to the Catlins.
We wished him safe travels, and continued on our way.
POST A COMMENT: