NORTHLAND: WHANGAROA
Tauranga Bay Holiday Park

Tauranga Bay, Northland
Phone: 09 4050436
rvexplorer id: 11727
Lat-Long: -35.00591, 173.78526
Beach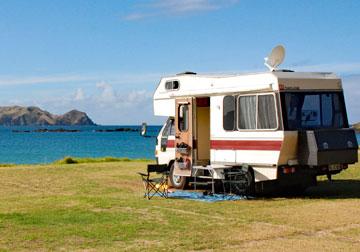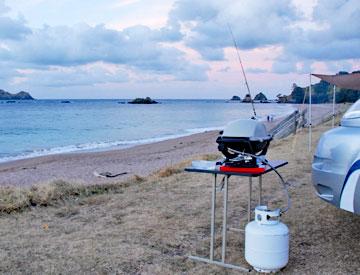 Barbeque by the beach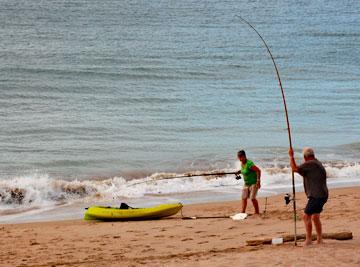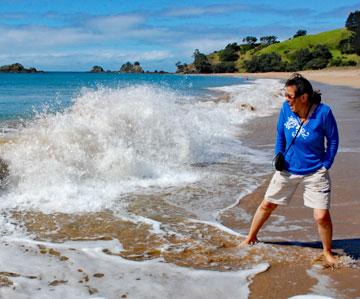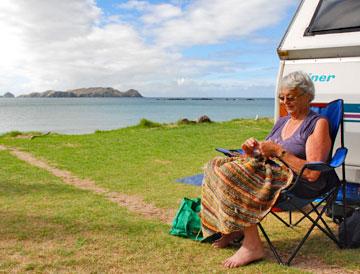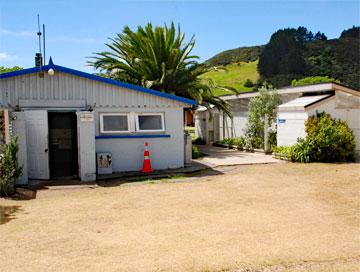 Kitchen and facilities block
We drove to Tauranga Bay en route from business meetings in Kaitaia, leaving later than we would have preferred. We'd spent most of the previous 3 days driving, and then staying overnight before moving on, and decided that we really wanted to chill out for a couple of days - and Tauranga Bay, right alongside the beach sounded pretty good.
We arrived just as the sun was going down, and were just gob-smacked by the view. I won't attempt to describe it - the pictures taken over the next couple of days tell their own story.
We were lucky enough to find the last beach front powered site and set about barbequing some chicken nibbles to go with a salad and boiled potatoes - quick but very enjoyable, especially since we were getting hungary.
There wasn't a sunset, but we were lulled to sleep by the pounding surf. The next morning we woke up to an overcast sky with a stiff breeze which kept us inside for most of the morning.
Some of the other campers were out with their surfcasting rods attempting to catch fish, but without any obvious success. There were certainly fish out there, but further out than they could reach. Even using plastic air bags, blown by the wind, to carry the bait out further wasn't enough.
Ah, for that kontiki that Shuping and I have been planning to purchase... Definitely, we will come back up after we have one in our camper garage.
The afternoon walk up the beach proved to be just stunning! Not visible from the campsite, the short walk up the beach revealed rugged cliffs that have been weathered into caves, and caverns that you can walk through into a sheltered cove.
Top that off with mussels that you can just pick up from the rocks, and I can honestly say that I have not seen anything that tops this anywhere!
On the way back we noticed an unusual trailer-home and stopped to chat to the lady sitting out in the sun busy knitting. A passionate enthusiast for spinning her own wool, and dyeing using natural plants to that she had spent years experimenting with, Chiria proved to be a yet another surprise hidden away down the bay.
If you're interested in handcrafts with a difference, have a look at the Handweavers and Spinners Guild that Chiria is a member of. Or their parent organisation, Creative Fibre.
The two days spent here was choice! The only negative, apart from the persistent wind, was the quality of the showers. The $20 per person per day entry fee includes tokens for a 4 minute metred hot shower each for each day. The first minute gets used while you are waiting for the hot water to come through, so it is really only a 3 minute hot shower - not much better than showering in your motorhome.
The shower facility was clean, but very basic compared with other holiday parks that we have visited.
We understand the need to conserve water in locations like this. But the first minute is wasted, which really doesn't make much sense.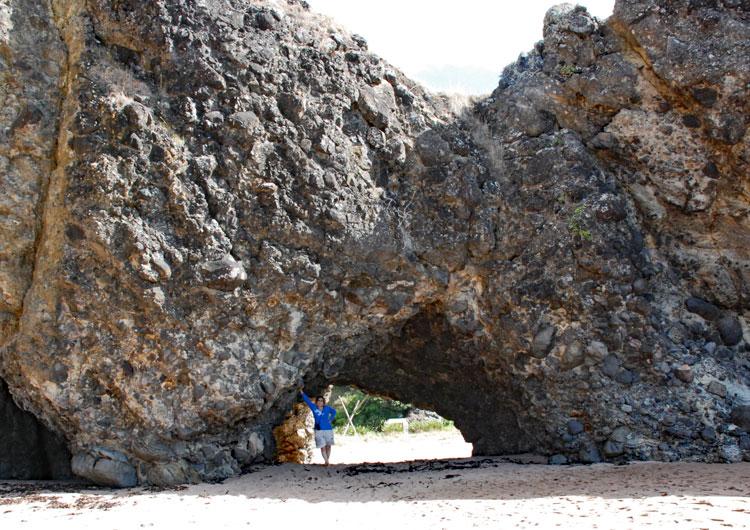 Rock archway leading to another bay
POST A COMMENT: