NORTHLAND: WHANGAREI
Uretiti - DOC Campsite

Off State Highway 1, 5 km north of Waipu, Whangarei, Northland
rvexplorer id: 17441
Lat-Long: -35.93312, 174.45885
Beach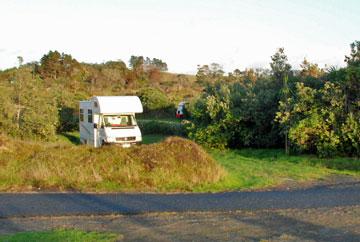 Secluded parking at the Uretiti campsite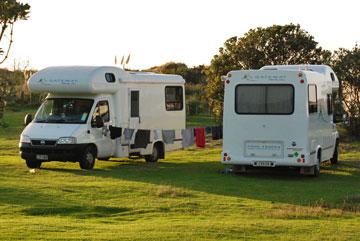 Getting the washing dry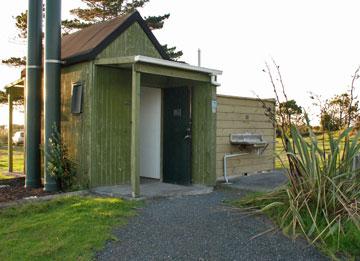 There were several strategically located toilet facilities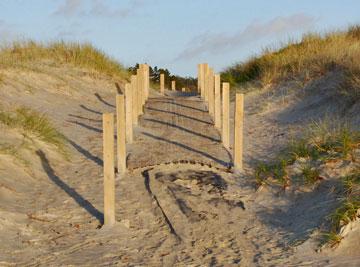 One of the beach access ways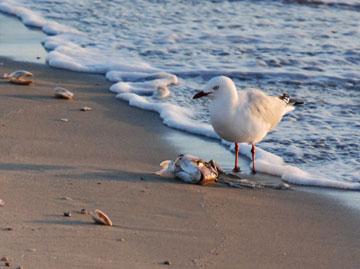 Seagull dining on a fish head - evidence that there is good fishing in the harbour
While traveling through Northland, we met a number of motor caravanners who highly recommended the Uretiti DOC campsite, so we thought we should have a look for ourselves. We left Auckland on a Friday afternoon and arrived just after 5pm.
Access is through a barrier bar after checking in with the camp ranger - a friendly lady who welcomed us in. We paid our nominal $20 overnight fee and drove around the ring road looking for a suitable location to park for the night. It is a huge camp with grassed areas and trees for shelter. The whole area is essentially reclaimed sand dunes, and are fairly undulating, so finding a suitable space that was also reasonably level was something of a challenge.
Given that it was a Friday afternoon in late Autumn, the camp was surprisingly full, and I'd imagine that it would be a good idea to book well in advance if you want to stay there over the summer holidays.
You can't see the beach from within the campground, but there are a number of short walkways through the sand dunes to get there. Overall we thought it was a great environment for young families - safe for children to run around and plenty of space. The white sand beach stretched from Masden Point in the north to Waipu Cove in the south. I imagine that the fishing is good, although we didn't see anyone with fishing rods for boats.
Mobile phone coverage was marginal for those who need to stay in touch, and accessing the internet didn't work at all.
The only other negative was road noise from being so close to the main road. This was especially noticable overnight when there was no other noise.
We got up early the next morning and walked down to the beach to watch the sun rise. Not spectacular, but still very pleasant.
For us, the main attraction would be to try our hand at sending out a kontiki seahorse to see if we could catch some of the fish that were clearly available in the harbour. At least, a walk along the beach showed evidence of fish being caught.
It was clouding over the next morning as we were packing up to leave, and a rainbow formed over our motorhome. What a nice way to say goodbye...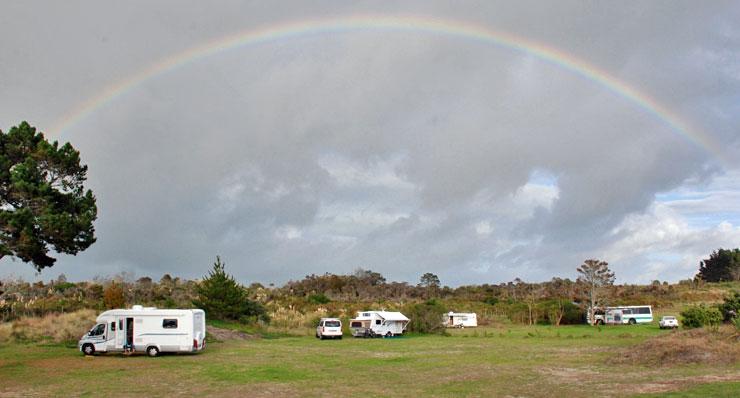 POST A COMMENT:
12:03 PM 13-May-17
by Denise
from Whiritoa
Public
Lovely spacious campsite. Great to be able to have a hot shower for $2. Everything very clean and tidy when we stayed in May.
04:27 PM 25-Nov-16
by Carol and Paul
from Auckland
Public
Just spent two nights at Uretiti DOC camp and thought it was a great place to stay. Nice beach for long walks. We were in a motorhome but facilities, if you require them, appeared well maintained and there was plenty of space to park. We will be definitely coming back.