NORTHLAND: WHANGAREI
Marsden Cove Marina Carpark

48 Rauiri Drive, Marsden Cove, Whangarei, Northland
Phone: 09 432-7740
rvexplorer id: 17617
Lat-Long: -35.83906, 174.46733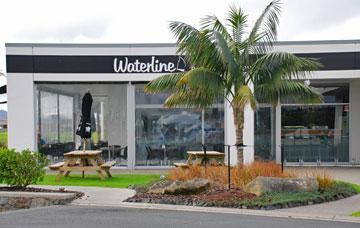 The Waterline Cafe at Marden Cove Marina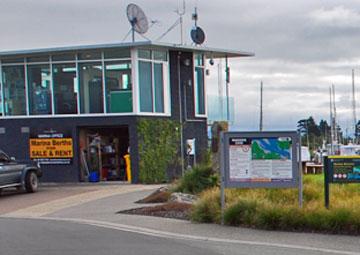 The Marsden Cove Marina office building - the facilities are underneath
Update: 23-March-2018
We've just been advised that overnight parking is no longer being offered to motor caravanners. Your best alternative is the Marsden Bay Reserve, which is just around the corner.
---
We had called in to the Northland Harbour Board rest area at Marsden Point, and then decided we might as well check out One Tree Point, just to see what was down there. On the way, we saw the Marsden Point Marina and called in to have some lunch at the Waterline Cafe.
It was a nice location with a great view out over the boats in the marina. The food was good, and we were chatting with the waitress when I thought I'd ask if it was ok for self-contained vans to park overnight in the carpark. Half expecting a 'no', or 'maybe', I was surprised when she said that the marina would be happy for us to park overnight, and that we should go and talk to the manager of the marina in the adjacent building.
At about the same time, another motorhome pulled up into the carpark and the owners came into the cafe for lunch. We ended up leaving at about the same time, and started chatting outside the cafe. They had been on the road for a few years, and had in fact used the marina carpark for overnighting while they were considering buying in the area.
One of the things we most enjoy about travelling around New Zealand is the different people we meet on the way. This was no exception, and we ended standing around outside for half-an-hour or so, swapping notes on different places we had each been, and our impressions of each location. We got a few tips for other places we should visit.
After saying goodbye, we walked over to the marina office and asked about what was involved for overnight parking. We were told that there were four powered sites, and that all that was required was to come into the office to book one. The cost is $15 per night per van, and they provide a pre-paid debit card for the showers, which cost 30 cents per minute, with any money you don't use being refundable. You can use the phone number above to book ahead of time.
We thought that was very reasonable. It's a nice environment, especially for boat enthusiasts, and access to the cafe for a late breakfast, or lunch, makes for a nice change of pace.
We have never seen this promoted anywhere, although it has been available for at least a couple of years. For us, this was yet another pleasant surprise, typical of many that we have experienced just by asking a few questions.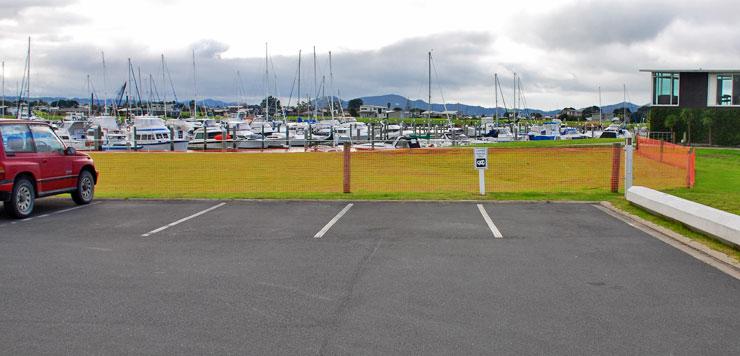 The Marina Cove carpark over looking the marina
POST A COMMENT: