NORTHLAND: WHANGAREI
Whangarei Top 10 Holiday Park

24 Mair St, Whangarei, Northland
Phone: 09 437-6856
rvexplorer id: 17594
Lat-Long: -35.71127, 174.32784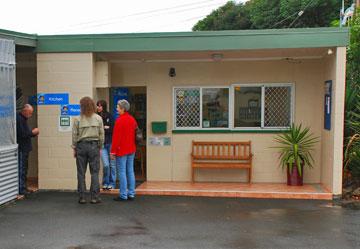 Campsite reception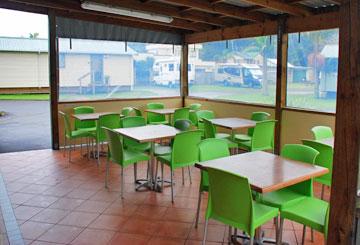 Dining area beside the office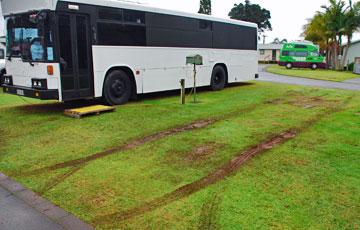 Tyre marks from getting stuck the night before
We arrived at the Whangarei Top 10 Holiday Park in mid-winter, just as it was getting dark. We'd enjoyed a beautiful sunny day, following on from a couple of days of cold rainy weather, and we were looking forward to chilling out overnight before heading back home to Auckland.
There was no one in the reception as we drove in, so we continued on to find a suitable powered site. All the sites that we could see were grassed and we found a good one next to another large van, so I got parked and then went back to the office to check in.
The very friendly receptionist pointed out that I really shouldn't be parking on the grassed site, and came out with me to check where we were. It appeared that 2 sites further along there was paved parking that she thought would be more suitable.
I agreed to move, but soon discovered that there was a good reason for not parking on grass - I was stuck! Even though it was a level section, and I only had to move forward about 1 metre to get back to the drive, all my wheels would do was to skid without moving.
This was mostly because our Fiat Ducato is front wheel drive, and most of the weight is on the back wheels. We tried putting mats in front of the wheels, but without any success. Finally some helpers arrived, who'd been watching our troubles with some amusement, and they offered to help push us off.
Our camper weighs in at over 4 tonnes, so I wasn't too hopeful - but it worked. We got ourselves relocated on hard ground, thanked all concerned, and made a simple dinner before settling in for the night. What a drama!
This proved to be a good lesson for us, and for anyone with front-wheel drive vans - be careful where you park. We were lucky in having others around who were able to help. However, if we had parked on even a slight downward slope, the only way out would have been to have someone tow us.
As you'll see from the picture, we made a nice mess of the grass. No one seemed too worried, so the camp management would have to rate well for being understanding.
The facilities were excellent, and this would certainly be a good campsite if you were looking to stay in Whangarei. Mt Parihaka is directly east, so it's a while before you see the sun in the morning.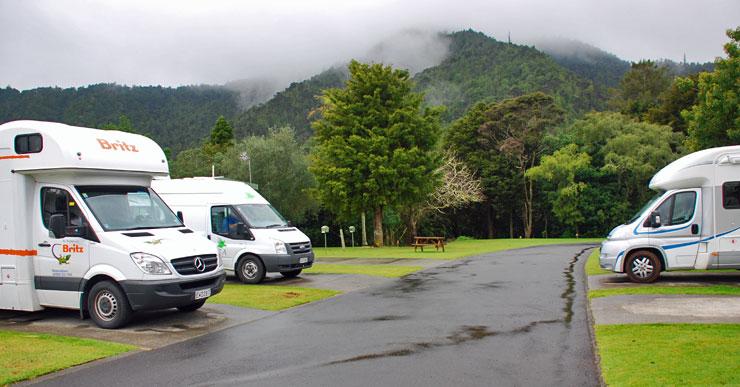 Whangarei Top 10 parking at the base of Mt Parihaka
POST A COMMENT:
10:47 PM 21-Oct-13
by Bruce and Wendy
from Waitakere Ranges
Public
This is part of my old playground, the house we grew up in is 100m from the entrance to this lovely site and also backed into the bush with the Hatea river just below us. We collected walnuts, mulberries, loquats and almonds from the trees beside the parking bays, swam, canoed and fished in the river, built tree houses and even took our homemade trollies down the now disused road at the back of the site. We'll have to stop off there for old times sake and with our rear wheel drive Mercedes, hopefully we won't get stuck!