NORTHLAND: WHANGAREI
Elliot Bay Lookout

1207 Rawhiti Rd , Rawhiti, Whangarei East, Northland
rvexplorer id: 17615
Lat-Long: -35.27856, 174.29222
Rural



Certified self-contained vans can park overnight in any council parking area that is not sign-posted as prohibited.
For complete details check wdc.govt.nz/camping. Check for onsite signs on arrival.
You risk a $200 fine for ignoring the rules.

Whangarei District Council also provides four designated freedom camping areas for self-contained vehicles
as well as 18 sites that permit non self-contained camping options.
Parking spaces and van length are limited at these sites and they are very popular, so be sure to arrive early
if you want to park overnight. We recommend you avoid these during the summer season.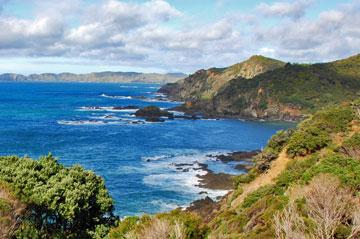 Lookout over Elliot Bay on a sunny afternoon
We were driving from Russell to the DOC campsite at Puriri Bay in Whangaruru North, winding our way up and down hills, every so often coming close to the shoreline. On the way, we crested a hill to be greeted with a stunning view over Elliot Bay, the water and surf sparkling deep blue and bright white in the clear mid-winter sunshine.
There was a long narrow layover along the edge of the road, so we pulled over, made a coffee while we enjoyed the view.
There were no facilities, and we were right on the edge of a steep slope down towards the bay, but if you want a view that is good for the soul, this is about as good as it gets!
We stopped for a coffee break. You would very likely be ok to park there overnight, although you would be quite close to the road. However, we were keen to continue on to the DOC campsite, so we only stayed for about half an hour.
For us, this was one of those unexpected surprises that pop up as we travel around New Zealand. If you're travelling this way on a fine day, be sure to pull over and take some time to enjoy it.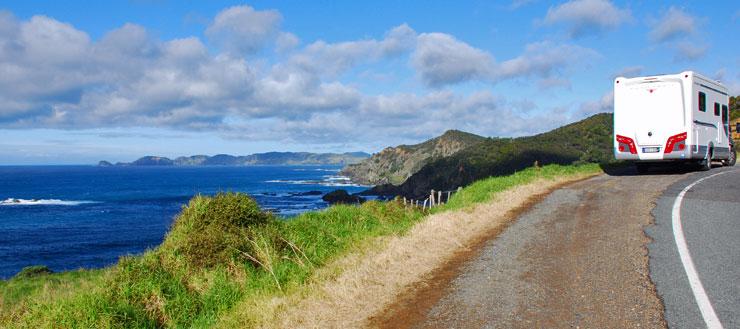 POST A COMMENT: