NORTHLAND: WHANGAREI
Treasure Island Trailer Park

60 Mahanga Rd, Pataua South, Whangarei, Northland
Phone: 09 436-2390
rvexplorer id: 17611
Lat-Long: -35.71741, 174.52858
Beach, Rural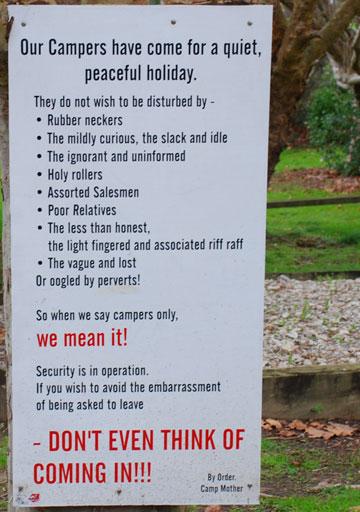 We arrived at the campsite in mid-winter, and everything looked to be closed down, although there was no sign to that effect, and only a few caravans that looked to be permanently parked there.
The campsite is in a great location, and the facilties and layout looked to be heavily focussed on providing for young families, although they also looked to be a bit run-down. We didn't go inside the grounds, opting to respect the sign making it very clear that non-paying visitors were not welcome.
The 'keep out' sign was at least done with a sense of humour, but was still unwelcoming. We didn't feel encouraged to stay long enough to see if we would want to come back.
Our overall impression was that this would be a fun place for young kids. We're not so sure about older adults.
POST A COMMENT:
03:53 PM 26-Jun-18
by brenda
from northland
Public
Suspect they may close for winter Never answer phone,email adress is invalid