NORTHLAND: WHANGAREI
Blue Heron Holiday Park

85-87 Scott Road, Parua Bay, Whangarei RD 4, Northland
Phone: 09 436 2293, 800436229
rvexplorer id: 02897
Lat-Long: -35.78384, 174.41922
Onerahi and Whangarei Heads is an area of New Zealand that I had never really explored. It was a beautiful clear winter's day and we decided to have a look around. The Blue Heron Holiday Park featured in the NZMCA directory and was located right on the edge of the harbour, so it was our first stop after overnight free parking at the Onerahi Beach Road carpark.
We arrived just as the caretaker was taking his family out for a morning walk. He cheerfully advised us that, if we were looking for the Manganese Point NZMCA park, then we had come too far. However, we were also very welcome to have a look around the holiday park while they were away.
It is in a sheltered location, and the parking area goes right down to the water and is surrounded by mature trees. It is all on grass, which would make for a really nice location over summer, but was not really suitable for parking over winter. The trees would provide welcome shade in the summer, but would also make accessing satellite TV difficult. It was also quite cold in the morning as the sun is hidden behind the hill until late in the morning.
This would be a nice location for a family, especailly if meeting up with other friends over the summer holidays.
The beach is rocky and probably not suitable for swimming. It is a pretty location, and you could check with the caretaker as to where you can go for a walk.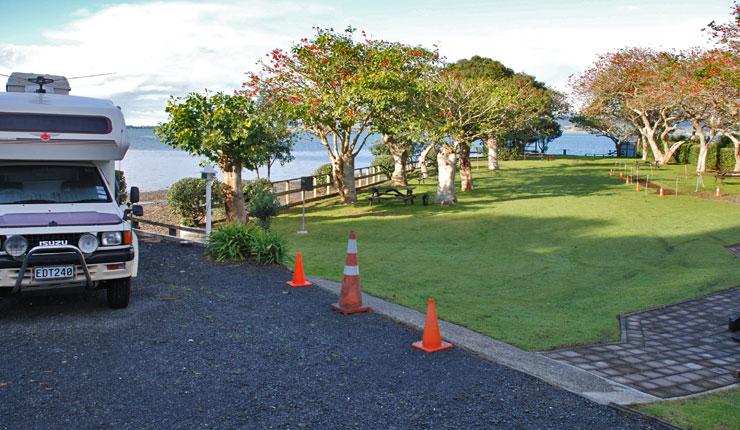 POST A COMMENT: