NORTHLAND: TUTUKAKA
Matapouri Beach Car Park

Wehiwehi Road, Matapouri, Northland
rvexplorer id: 17293
Lat-Long: -35.56446, 174.50686
Beach





Whangarei District Council welcomes freedom campers, and provides designated freedom camping locations for certified self-contained and non-self-contained vans. Parking spaces and van length may be limited
Certified self-contained vans can also park overnight at any council parking area that is not sign-posted otherwise.
There are 38 prohibited sites. Check wdc.govt.nz for the latest information. You risk a $200 fine for ignoring signs.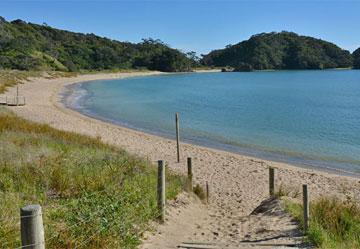 The beach at Matapouri Bay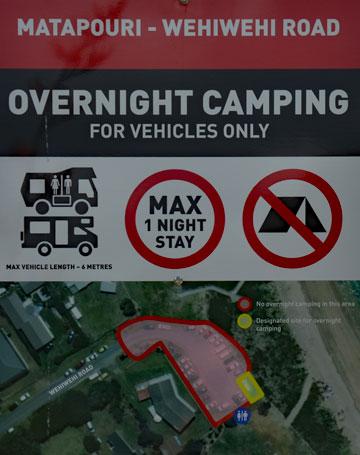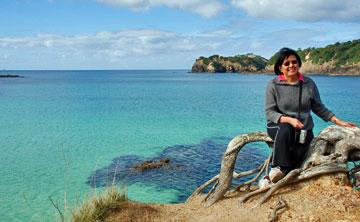 Starting off on our walk to Whale Bay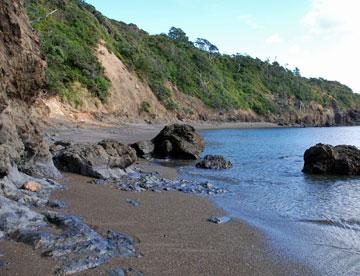 A stony black sand beach is our first stop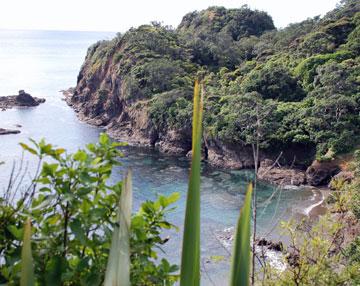 View from the cliff walk - and really good exercise...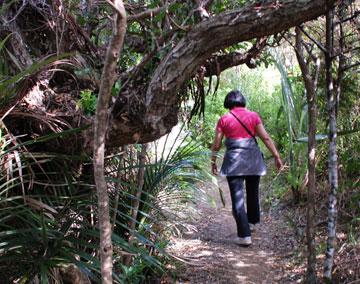 Walking through regenerating native forest on the way to Whale Bay
Matapouri Beach is a popular Summer location in a small beach-side town just over half-an-hour's drive north-east of Whangarei. The beach has clean white sand, is sheltered from the wind, and should provide safe swimming.
The town has a general store that provides most basic necessities. For anything more it's not far to Whangarei.
Freedom camping is available in the marked parking area, for both self-contained and non-self-contained vans. However, there is not a lot of room, and the carpark can be quite busy in the weekends.
One of the real features of Matapouri is the walk to Whale bay. This is not just a great way to burn off some excess calories. The views are just stunning. The water in all of the bays is crystal clear.
There is also a great variety of scenery on the walk, going past little beaches, over cliffs, through native forest and farmland. Totally uplifting, even if it did test our physical fitness. We thoroughly enjoyed our time here.
Update: 21-Nov-2017
The Whangarei District Council has recently updated its Freedom Camping bylaw, so we called in to check out the changes.
The Wehiwehi carpark at Matapouri Bay has been one of our favourite overnight camping locations, and while it can be busy over the summer holidays and weekends, we've usually found plenty of room in the parking area at other times.
So, we were disappointed to see that our 8 metre motorhome is no longer able to stay overnight as the council has set a maximum length of 6 metres. This effectively limits overnight parking to the smaller non-self-contained vans.
Presumably, we can still visit during the day as the sign only applies to overnight camping. This is also a nonsense, as the parking area is more likely to be busy during the day, and mostly empty overnight. There has to be a better solution!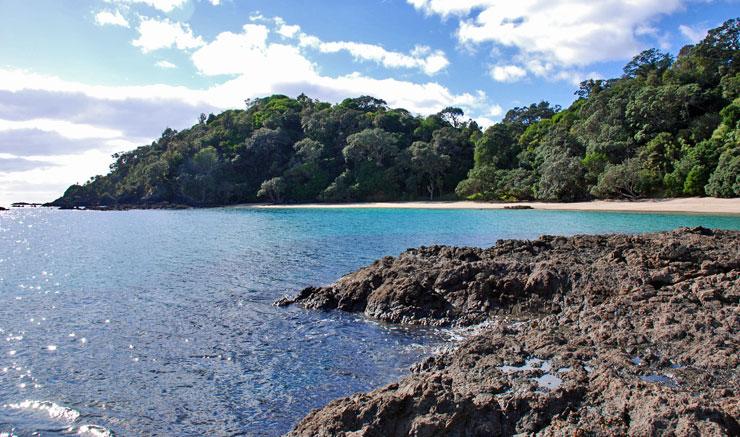 Whale Bay - quiet, secluded, and stunningly beautiful.
POST A COMMENT:
04:10 PM 12-May-19
by Denise
from Whiritoa
Public
Another amazing place to freedom camp, loved our night here! Room for three campers right on the edge of this stunning beach. We did a circular walk from here taking in Whale Bay and the rugged coastline.