NORTHLAND: TUTUKAKA
Ngahau Bay Reserve

near 177 Ngahau Bay Rd, Helena Bay, Whangarei, Northland
rvexplorer id: 20877
Lat-Long: -35.44153, 174.39423
Beach, Rural






Whangarei District Council welcomes freedom campers, and provides designated freedom camping locations for certified self-contained and non-self-contained vans. Parking spaces and van length may be limited
Certified self-contained vans can also park overnight at any council parking area that is not sign-posted otherwise.
There are 38 prohibited sites. Check wdc.govt.nz for the latest information. You risk a $200 fine for ignoring signs.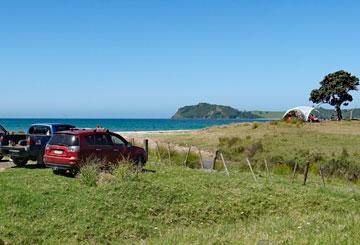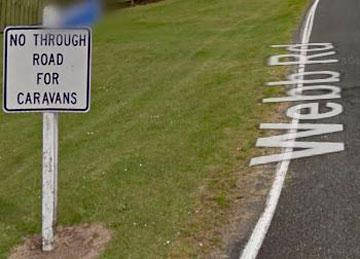 Ngahau Bay Reserve is just south of Helena Bay. While self-contained motor caravanners can stay overnight, the road there is really not suitable for large vans.
We were able to drive there (very slowly) over 5km of rough, narrow gravel road to get to Ngahau Bay in our 8m front-wheel drive motorhome. But there were places where we would have been unable to continue if we'd had to stop for cars coming in the opposite direction.
Even the road sign at the Teal Bay intersection advises that the road is not suitable for caravans.
Having said that, when we arrived in Ngahau Bay, there were several motorhomes and caravans parked up. The motorhomes looked like older rear-wheel drive vans that would have been safer to drive on the gravel access road.
The bay itself was a reasonable location. We just wouldn't recommend it for less experienced drivers, especially in large front-wheel drive motorhomes.
POST A COMMENT:
05:14 PM 29-Apr-21
by ngahau
from northland
Public
Hi, Just to say Ngahau Bay is not pet friendly, it is a protected sight for penguin colonies and other protected birds. Dogs must be kept on a leash..... It is also a working farm with very large bulls. The access to the beach is limited a small gate that must be kept shut as the bulls will smash through it. Campring spaces are limited and the beach is collecting a large amount of urine and faeces as the rocks are being used as a toilet. It is also a no fire zone as the pohutakawa reserve is inevitably unsafe, due to campers lighting illegal fires. It is over fished, and illegally, so in a few years there will be no kai moana. But go for it......
09:56 PM 22-Jan-19
by Chris Gaelic
from Auckland
Public
Thanks for that. I've downgraded this to 1 star. I've only included it because it may appear on other campervan directories.
05:35 PM 22-Jan-19
by ngahau
from northland
Public
not recommended, road degraded, people got stuck because of giant digger slewed across the road, not suitable for anything other than jucy size. area prone to flooding.