NORTHLAND: TUTUKAKA
Sandy Bay

1336 Matapouri Rd, Matapouri, Whangarei, Northland
rvexplorer id: 19121
Lat-Long: -35.55668, 174.47356
Beach







Whangarei District Council welcomes freedom campers, and provides designated freedom camping locations for certified self-contained and non-self-contained vans. Parking spaces and van length may be limited
Certified self-contained vans can also park overnight at any council parking area that is not sign-posted otherwise.
There are 38 prohibited sites. Check wdc.govt.nz for the latest information. You risk a $200 fine for ignoring signs.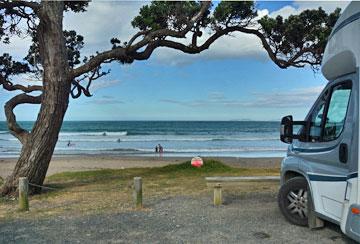 Beachfront parking on the sealed carpark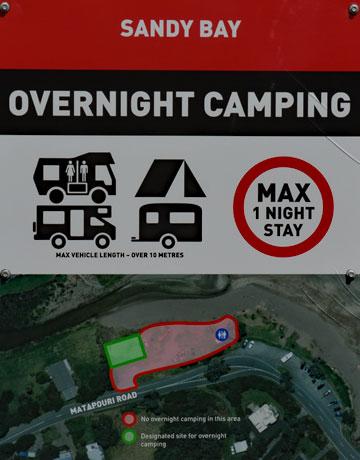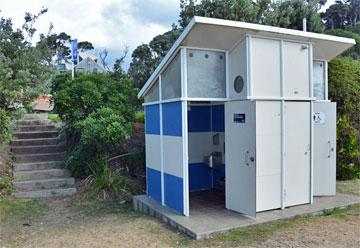 Clean public toilets
Sandy Bay, just north of Matapouri, is a stunning beach location where freedom camping is allowed in the designated grassed parking area at the far end of the carpark.
The beach was full of enthustic kayakers and swimmers on the beautiful sunny afternoon in mid-January when we stopped by. The car park overlooks the beach and there was plenty of room for our 8m van.
We nearly decided to stay the night, but the road going past was was quite busy, and mobile phone reception was not good for Vodafone. I needed to have access to the net, so we reluctantly decided to contniue south to Matapouri.
There is a clean public toilet and you are surrounded by a small community. This would be a great place to stay overnight, Facing east, it should be reasonably sheltered, and you might be treated to a stunning sunrise if you get up early.
Update: 21-Nov-2017
The Whangarei District Council have recently changed their Freedom Camping bylaw, so we called in to check the changes to Sandy Bay.
The Overnight Camping sign applies to the grass reserve along the river entrance to the bay, and there is a small area allocated to overnight camping for tents and vehicles up to 10 metres long.
The sign doesn't include the sealed carpark around the corner, which should then be available for self-contained motorhomes to parking overnight, with no restrictions.
However, this is a very popular beach, and you're likely to find that carpark fully occupied during the day on sunny weekends and public holidays.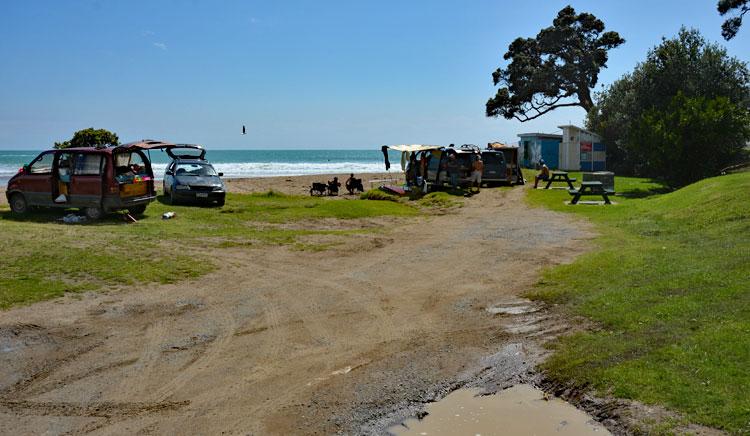 Designated Overnight Camping area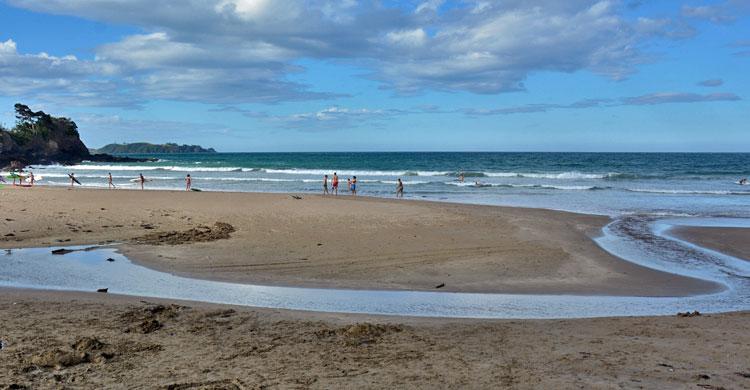 POST A COMMENT:
04:12 PM 12-May-19
by Denise
from Whiritoa
Public
Had a lovely night here. Seven campers and two tents the night we stayed. We walked the Whananaki Coastal Track from here the next day. So many beautiful beachfront places to freedom camp in the Whangarei District Council.