NORTHLAND: MID NORTH
Hundertwasser Car Park

Gillies St, Kawakawa, Northland
rvexplorer id: 19617
Lat-Long: -35.37973, 174.06673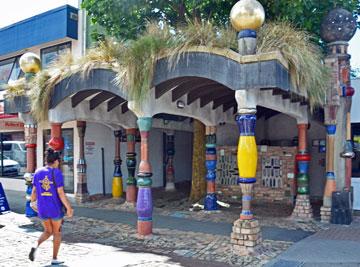 Hundertwasser's unique design for the public toilets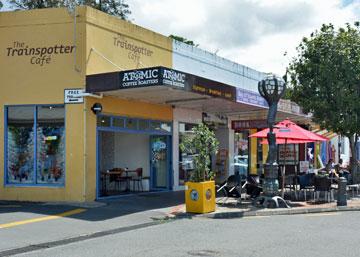 The Trainspotter Cafe just across the road
The Hundertwasser Car Park is a designated Freedom Parking area, where certified self-contained motor caravanners can stay for a maximum of 2 nights.
Kawakawa is a nice little country town where a number of artists and craft persons have settled. The most notable was Friedensreich Hundertwasser, a very well known Austrian artist and architect, who relocated to Kawakawa in the 1970s to immerse himself in a natural environment.
His significant contribution to Kawakawa was his unique design for the town's public toilets, and which has since become a major attraction, bringing visitors from around the world to see Hundertwasser's last architechural project.
The town also has a very nice cafe just across the road, plus you can also buy groceries, and explore the craft shop.
You can also see Gabriel, the vintage steam train that has been lovingly restored. There are train rides down through the centre of the town, and along part of the original Opua track to Taumarere, four times every day.
You can find out more about the Gabriel project at www.bayofislandsvintagerailway.org.nz - be sure to watch the video clip!
This is choice location for motor caravanners interested in archtecture, vintage railway, local craft, or just country town New Zealand.
POST A COMMENT: