NORTHLAND: KAURI COAST
Tinopai Motor Camp

Komiti Road, Tinopai, Kauri Coast, Northland
Phone: 09 431 6380
rvexplorer id: 12734
Lat-Long: -36.24941, 174.24813
Beach, Town









We arrived at Tinopai in the late on a Sunday afternoon. The tide was out and the campground was empty, leaving us wondering if we really wanted to stay. We had a quick look around the site. The facilities were pretty basic but we decided we should stay and walked across the road to the office to check in.
The owners had just returned from a fishing trip in the harbour, taking advantage of the absence of visitors. Apparently the site had been fully booked over the summer school holidays, and this was one of their first quiet weekends.
We got ourselves set up on a powered site, and were soon joined by a couple towing a caravan. Kevin and his wife were from Whangarei and had been here two weeks earlier, but had to leave early because there was no room left in the campsite.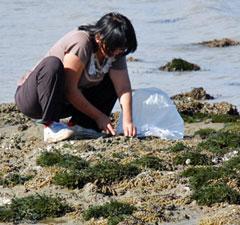 Kevin told Shuping where she could gather oysters from the rocky foreshore, and she promptly disappeared with a plastic bag to see what she could find.
Kevin and his wife had spent 5 years travelling around New Zealand in a motorhome, and had only recently changed to a caravan. They are now travelling less, but like to spend more time in their favourite locations and the caravan is better suited to their new lifestyle.
They had come back to Tinopai because, two weeks earlier, the harbour had be full of flounder, and they really enjoyed catching fresh fish, wading through the water and using a flounder spear.
Within the short space of a half-hour conversation, Tinopai had gone from being a pretty marginal place to stay, to a great place to explore!
We barbequed some lamb chops for dinner and then went for a walk before getting an early night.
The next morning Shuping was up early and got all excited watching the sun rise over the hills on the far side of the harbour. We had some breakfast and then walked past the dairy and on to the jetty which we could see in the distance from the campsite.
A couple from Ruawai were fishing on the jetty. They had moved up from Auckland, buying a property in Ruawai because it was only about 30 minutes drive from Tinopai, where they enjoyed going fishing. At the moment they were catching baby scnapper, most of which were undersize and had to be put back. But kauwhai, and even kingfish could be could caught in the Kaipara harbour.
We returned to the campsite to find Kevin sitting out in the sun reading while his wife was busy trying to catch some flounder for lunch. She wasn't having any luck, and had only seen two. We wondered if it might be something to do with the moon, as two weeks earlier it had been a full moon, and now there was none. Or it may just be a seasonal change. We said our goodbyes, packed up and headed off to our next stop in Dargaville.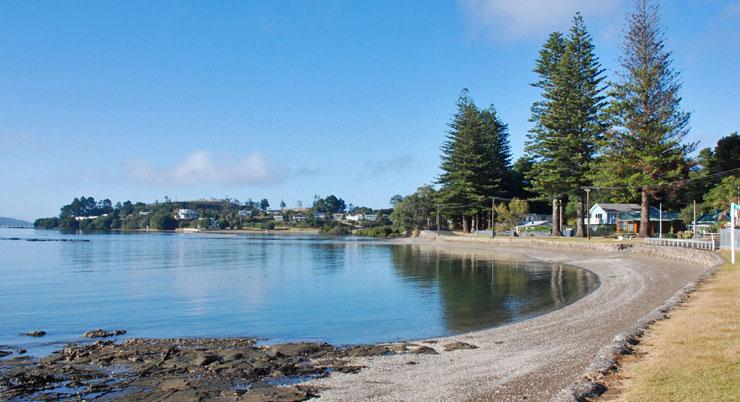 POST A COMMENT:
05:17 PM 02-Apr-16
by joy
from cambridge
Public
This location is true blue NZ spent 3 days there, booked in for 5 but the weather cut it short. In my kayak paddled out and landed 6 snapper 4 keepers. The tide was against me for floundering but got up at 6am, on the outgoing tide speared a beauty, right off the camping ground. Highly recommend this place