NORTHLAND: KAURI COAST
Kellys Bay Reserve and Campground

Bay View Road, Te Kopuru, Northland
Phone: 09 439-0781
rvexplorer id: 17720
Lat-Long: -36.24836, 174.10051
Beach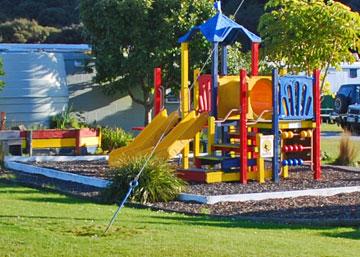 Children's playground
Kellys Bay is a small rural seaside community with a stunningly beautiful beach, great fishing, and a campground just across the road from the beach.
Unlike Pouto Point, the bay is quite shallow, and is a good location for catching founder who come into the shallow water to feed at high tide.
Even on the last day of winter, there were a number of campers. Some had come for a few days fishing, while another couple were just chilling out in a beautiful location for a few weeks.
The campsite offered parking on grass, but the facilities were pretty basic, with long-drop toilets and solar heated showers.
Having said that, the weather and the company was great, and we enjoyed our stay.
The campsite manager was also an interesting character, riding his bicycle up and down the road past the campsite. He was pretty relaxed about booking us in, and not at all concerned about when we might check out the next day.
He was also a mine of information about local fishing and the best route to take to our next destination at Glinks Gully.
UPDATE: 16-Aug-2017
We've been advised that the campground now has a new manager, and that the toilets, showers and washing machines have been upgraded.
POST A COMMENT: